Atlas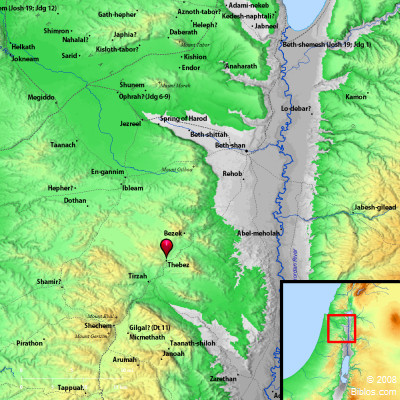 ---
Maps Created using Biblemapper 3.0
Additional data from OpenBible.info
Occurrences
Judges 9:50
Then went Abimelech to Thebez, and encamped against Thebez, and took it.
2 Samuel 11:21 who struck Abimelech the son of Jerubbesheth? Didn't a woman cast an upper millstone on him from the wall, so that he died at Thebez? Why did you go so near the wall?' then you shall say,'Your servant Uriah the Hittite is dead also.'"
Encyclopedia
THEBEZ
the'-bez (tebhets, "brightness"; Codex Vaticanus Thebes; Codex Alexandrinus Thaibais): A city in Mt. Ephraim which refused submission to Abimelech when he set up as king of Israel. After the reduction of Shechem he turned his arms against Thebez. There was a strong tower within the city-the citadel-into which all the inhabitants gathered for safety, climbing onto the roof of the tower. Abimelech incautiously venturing near the tower, a woman cast an upper millstone upon his head and broke his skull. Fearing the shame of perishing by the hand of a woman, he persuaded his armor-bearer to thrust him through (Judges 9:50). The incident is alluded to in 2 Samuel 11:21. Eusebius, Onomasticon places it 13 Roman miles from Neapolis (Nablus) on the road to Scythopolis (Beisan). There is no doubt that it is represented by Tubas. This is a village situated in a district of considerable fertility, about 10 miles from Nablus. There are many olive trees. The rain is captured and led to rockcut cisterns, whence the village draws its water-supply. According to the Samaritans the tomb of Neby Toba marks the grave of the patriarch Asher.

W. Ewing
---
THE'BEZ, now Tubas, 9 ms. n.e. of Shechem, a handsome village, without a spring, and on the e. slope of a hill, 1227 ft. above the Mediterranean.
Strong's Hebrew
H8405: Tebets
a city near Shechem