Atlas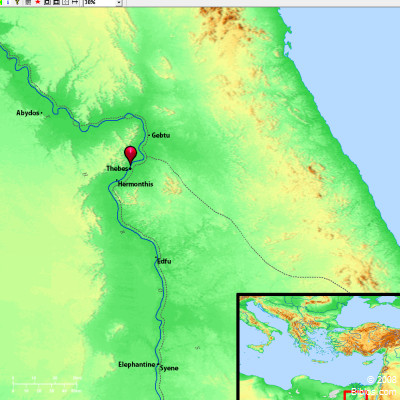 ---
Maps Created using Biblemapper 3.0
Additional data from OpenBible.info
Occurrences
Jeremiah 46:25
Yahweh of Armies, the God of Israel, says: Behold, I will punish Amon of No, and Pharaoh, and Egypt, with her gods, and her kings; even Pharaoh, and those who trust in him:
Ezekiel 30:14 I will make Pathros desolate, and will set a fire in Zoan, and will execute judgments on No.
Ezekiel 30:15 I will pour my wrath on Sin, the stronghold of Egypt; and I will cut off the multitude of No.
Ezekiel 30:16 I will set a fire in Egypt: Sin shall be in great anguish, and No shall be broken up; and Memphis shall have adversaries in the daytime.
Nahum 3:8 Are you better than No-Amon, who was situated among the rivers, who had the waters around her; whose rampart was the sea, and her wall was of the sea?
Encyclopedia
THEBES
thebz.

See NO-AMON.
---
NO-A'MON, City of Arnon, a city called Thebes, in upper Egypt, on both sides of the Nile. It covered about 5 ms. by 3 ms. according to ancient historians, and at present contains the most magnificent ruins in the world. See Osborn's Egypt, pp. 139-154.
Strong's Hebrew
H4996: No
an Eg. city