Atlas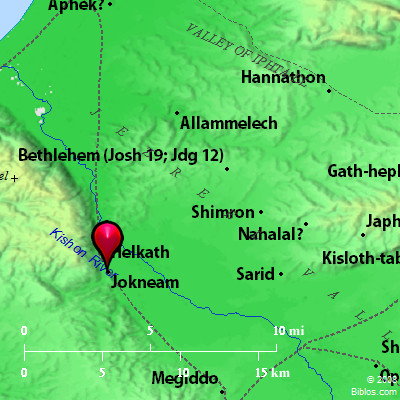 ---
Maps Created using Biblemapper 3.0
Additional data from OpenBible.info
Occurrences
Joshua 12:22
the king of Kedesh, one; the king of Jokneam in Carmel, one;
Joshua 19:11 Their border went up westward, even to Maralah, and reached to Dabbesheth. It reached to the brook that is before Jokneam.
Joshua 21:34 To the families of the children of Merari, the rest of the Levites, out of the tribe of Zebulun, Jokneam with its suburbs, Kartah with its suburbs,
Encyclopedia
JOKNEAM
jok'-ne-am (yoqne`am): A royal city of the Canaanites taken by Joshua and described as "in Carmel" (Joshua 12:22), in the territory of Zebulun, and allotted to the Merarite Levites (21:34). The border of Zebulun "reached to the brook that is before Jokneam" (19:11). In 1 Kings 4:12 the name appears in the King James Version where, with the Revised Version (British and American), we should read "Jokmeam." Eusebius, Onomasticon places it 6 Roman miles from Lejio (Lejjun) on the way to Ptolemais (Acre). This points to Tell Kaimun, a striking mound on the eastern slope of Mt. Carmel. To the East of it runs the "torrent bed" of the Kishon. It stands about 300 ft. above the valley to the North of it, and the sides are steep. It is crowned by the ruins of an 18th-century fortress. A little lower down are the remains of a small chapel. There are fine springs at the foot (PEFM, II, 69). In Judith 7:3 it appears as "Cyamon" (Kuamon). It is the "Mons Cain" of the Middle Ages. "In the Samaritan Book of Judges it is noticed as the scene of a conflict between the Hebrews and the Giants; and Joshua is said to have been shut up here in magic walls of brass, till on sending a dove to the Hebrew king of Gilead, he was rescued" (Conder, HDB, under the word).

W. Ewing
---
J0K'NEAM, now tell Kaimon a hill at the e. end of Mt. Carmel, 59 ms. n. of Jerusalem. In 1 Kings 4:12 Jokneam should read Jokmean as it is in the Hebrew.
Strong's Hebrew
H3362: Yoqneam
a city of Canaan