Atlas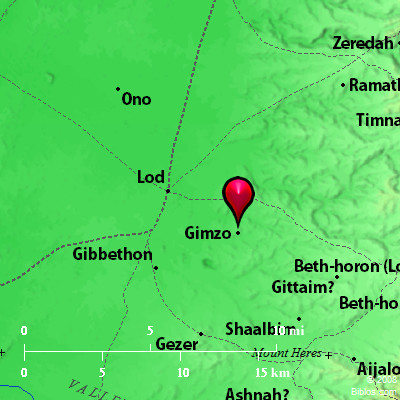 ---
Maps Created using Biblemapper 3.0
Additional data from OpenBible.info
Occurrences
2 Chronicles 28:18
The Philistines also had invaded the cities of the lowland, and of the South of Judah, and had taken Beth Shemesh, and Aijalon, and Gederoth, and Soco with its towns, and Timnah with its towns, Gimzo also and its towns: and they lived there.
Encyclopedia
GIMZO
gim'-zo (gimzo; Gamzo): A town of Judah on the border of the Philistine plain, captured by the Philistines in the days of Ahaz (2 Chronicles 28:18). It is the modern Jimzu, a small mud village about 3 1/2 miles Southeast of Ludd (Lydda), on the old mule road from there to Jerusalem (Robinson, BR, II, 248-49;. SWP, Il, 297).
---
GIMZO, now Jimzu, 18 ms. w. from Jerusalem, 2 ms. s.e. of Lydda on the plain of Sharon.
Strong's Hebrew
H1579: Gimzo
a city in Judah