Atlas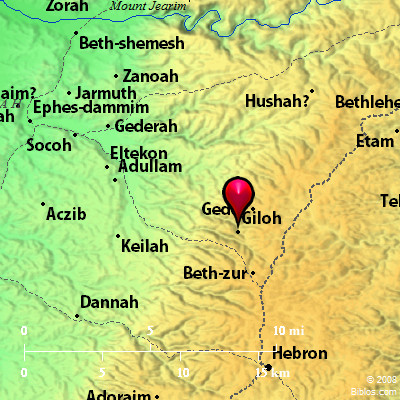 ---
Maps Created using Biblemapper 3.0
Additional data from OpenBible.info
Occurrences
Joshua 15:51
Goshen, Holon, and Giloh; eleven cities with their villages.
2 Samuel 15:12 Absalom sent for Ahithophel the Gilonite, David's counselor, from his city, even from Giloh, while he was offering the sacrifices. The conspiracy was strong; for the people increased continually with Absalom.
Encyclopedia
GILOH
gi'-lo (giloh): A town in the hill country of Judah mentioned along with Jattir, Socoh, Debir, Eshtemoa, etc. (Joshua 15:51). Ahithophel came from here (2 Samuel 15:12) and is called the Gilonite (2 Samuel 23:34). Driver infers from this last that the original form was Gilon, not Giloh. Probably the ruins Kb. Jala, in the hills 3 miles Northwest of Hulhul, mark the site (PEF, III, 313, Sh XXI).
Strong's Hebrew
H1542: Giloh
a city in Judah