Atlas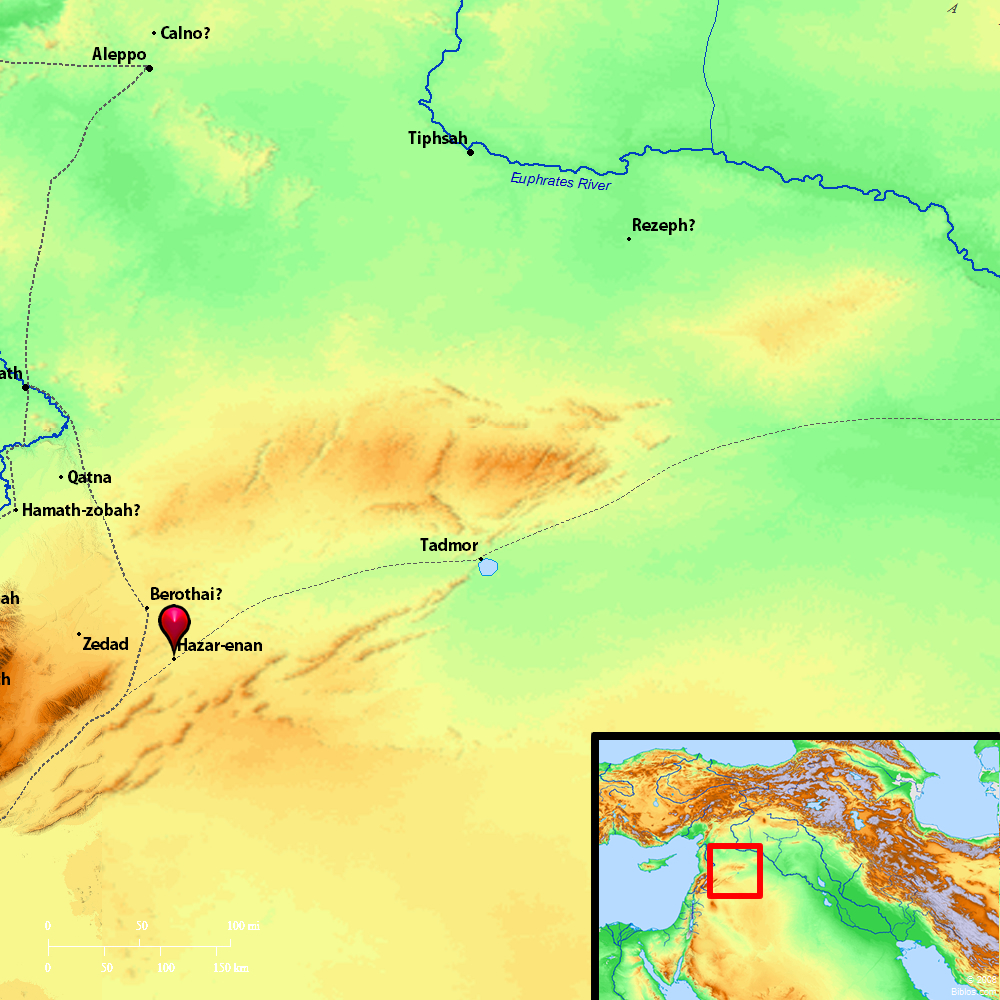 ---
Maps Created using Biblemapper 3.0
Additional data from OpenBible.info
Occurrences
Numbers 34:9
and the border shall go forth to Ziphron, and the goings out of it shall be at Hazar Enan: this shall be your north border.
Numbers 34:10 "'You shall mark out your east border from Hazar Enan to Shepham;
Ezekiel 47:17 The border from the sea, shall be Hazar Enon at the border of Damascus; and on the north northward is the border of Hamath. This is the north side.
Ezekiel 48:1 Now these are the names of the tribes: From the north end, beside the way of Hethlon to the entrance of Hamath, Hazar Enan at the border of Damascus, northward beside Hamath, (and they shall have their sides east and west), Dan, one portion.
Encyclopedia
HAZAR-ADDAR; HAZAR-ENAN; HAZAR-GADDAH; HAZAR-HATTICON; HAZAR-MAVETH; HAZAR-SHUAL; HAZAR-SUSA; HAZAR-SUSIM
ad'-ar; e'-nan; gad'-a; hat'-i-kon; ma'-veth; shoo'-al; su'-sa; su'-sim.

See HAZAR.
---
E'NON, springs, some have supposed the site to be n.e. of Shechem and 7 ms. n. of a village now called Salim, the latter being 3 ms. e. of Shechem. Three ms. s.w. of this supposed site of Enon are several springs in a valley. These coincidences have led some to place Enon here. But both the words Salim and that for springs, are among the most common. There is another Salim, or name of similar form, in the wady of that name, 3 to 4 ms. n.e. of Jerusalem and very much water flowing from one large spring and several others, 2 ms. n.e. at ain Farah. Therefore as that immense spring supply (as Dr. Barclay describes it) suggests the word "springs," or Enon, and the name suggests the Salim of John, it has been located at this place with far greater probability, for the former place was in Samaria and the latter in Judea. Now from John 3:22, 23, it appears that both Jesus and John were baptizing in Judea and their proximity to each other gave occasion to the remarks recorded in the 25th verse. Then it appears that Jesus left Judea for Galilee, chap. 4:1, with the intention of getting out of the neighborhood of John and the appearance of rivalry. On the way to Galilee he comes to Jacob's well near Sychar in Samaria. Now if the first supposed site is the location of Enon Jesus was nearer John than before. But the improbability of this site arises from the fact that it supposes that John left Judea and went baptizing among the Samaritans, with whom, we are told by the Evangelist, the Jews had no dealings. It is almost certain, therefore, that Enon was not at the site first described.
Strong's Hebrew
H2703: Chatsar Enon
a place on the N.E. border of Canaan