Atlas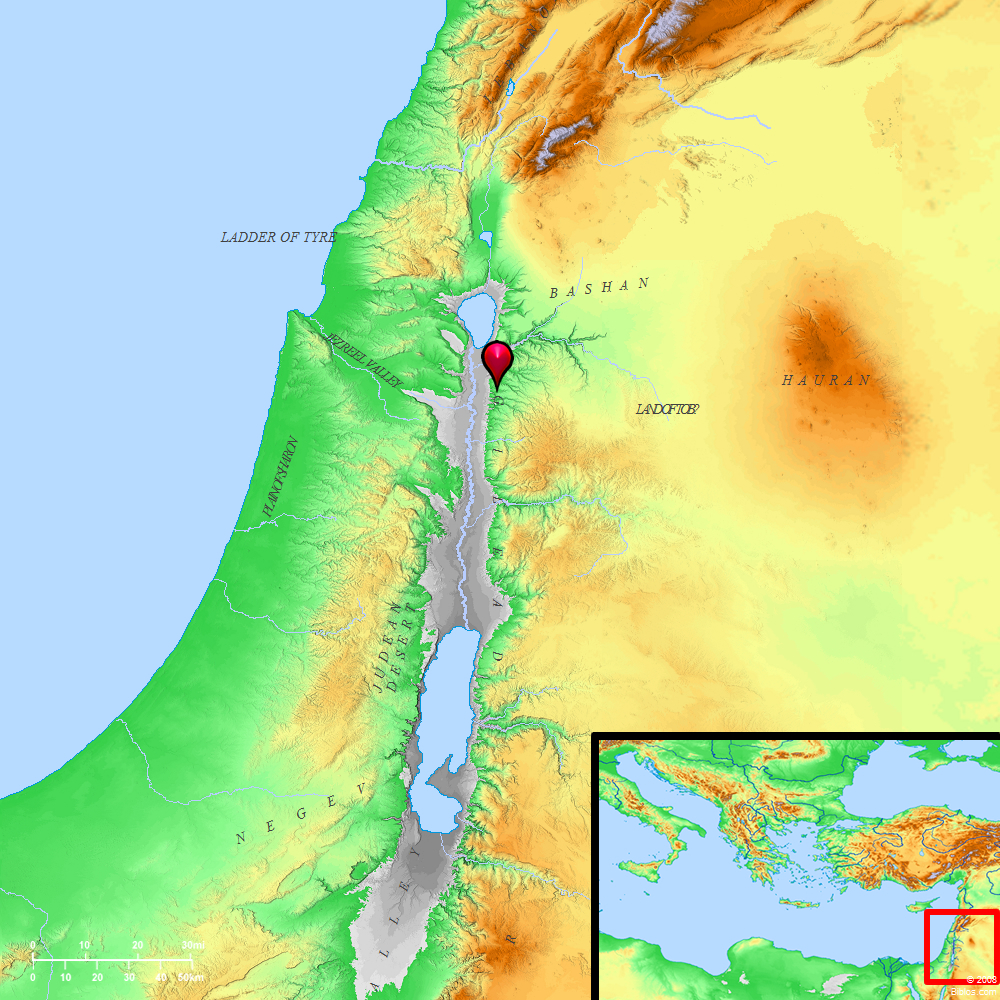 ---
Maps Created using Biblemapper 3.0
Additional data from OpenBible.info
Occurrences
Numbers 32:41
Jair the son of Manasseh went and took its towns, and called them Havvoth Jair.
Deuteronomy 3:14 Jair the son of Manasseh took all the region of Argob, to the border of the Geshurites and the Maacathites, and called them, even Bashan, after his own name, Havvoth Jair, to this day.)
Judges 10:4 He had thirty sons who rode on thirty donkey colts, and they had thirty cities, which are called Havvoth Jair to this day, which are in the land of Gilead.
1 Chronicles 2:23 Geshur and Aram took the towns of Jair from them, with Kenath, and its villages, even sixty cities. All these were the sons of Machir the father of Gilead.
Encyclopedia
HAVVOTH-JAIR
hav-oth-ja'-ir (chawwoth ya'ir "the encampments" or "tent villages of Jair"; the King James Version Havoth-Jair, ha-voth-ja'ir): The word chawwoth occurs only in this combination (Numbers 32:41 Deuteronomy 3:14 Judges 10:4), and is a legacy from the nomadic stage of Hebrew life. Jair had thirty sons who possessed thirty "cities," and these are identified with Havvoth-jair in Judges 10:3. The district was in Gilead (10:5; Numbers 32:41). In Deuteronomy 3:13, it is identified with Bashan and Argob; but in 1 Kings 4:13, "the towns of Jair" are said to be in Gilead; while to him also "pertained the region of Argob, which is in Bashan, threescore great cities with walls and brazen bars." There is evident confusion here. If we follow Judges 10:3, we may find a useful clue in 10:5. Kamon is named as the burial place of Jair. This probably corresponds to Kamun taken by Antiochus III, on his march from Pella to Gephrun (Polyb. v.70, 12). Schumacher (Northern `Ajlun, 137) found two places to the West of Irbid with the names Qamm and Qumeim (the latter a diminutive of the former) with ancient ruins. Qamm probably represents the Hebrew Qamon, so that Havvoth-jair should most likely be sought in this district, i.e. in North Gilead, between the Jordan Valley and Jebel ez-Zumleh.

W. Ewing
Strong's Hebrew
H2334: Chavvoth Yair
"tent villages of Jair," an area East of the Jordan