Atlas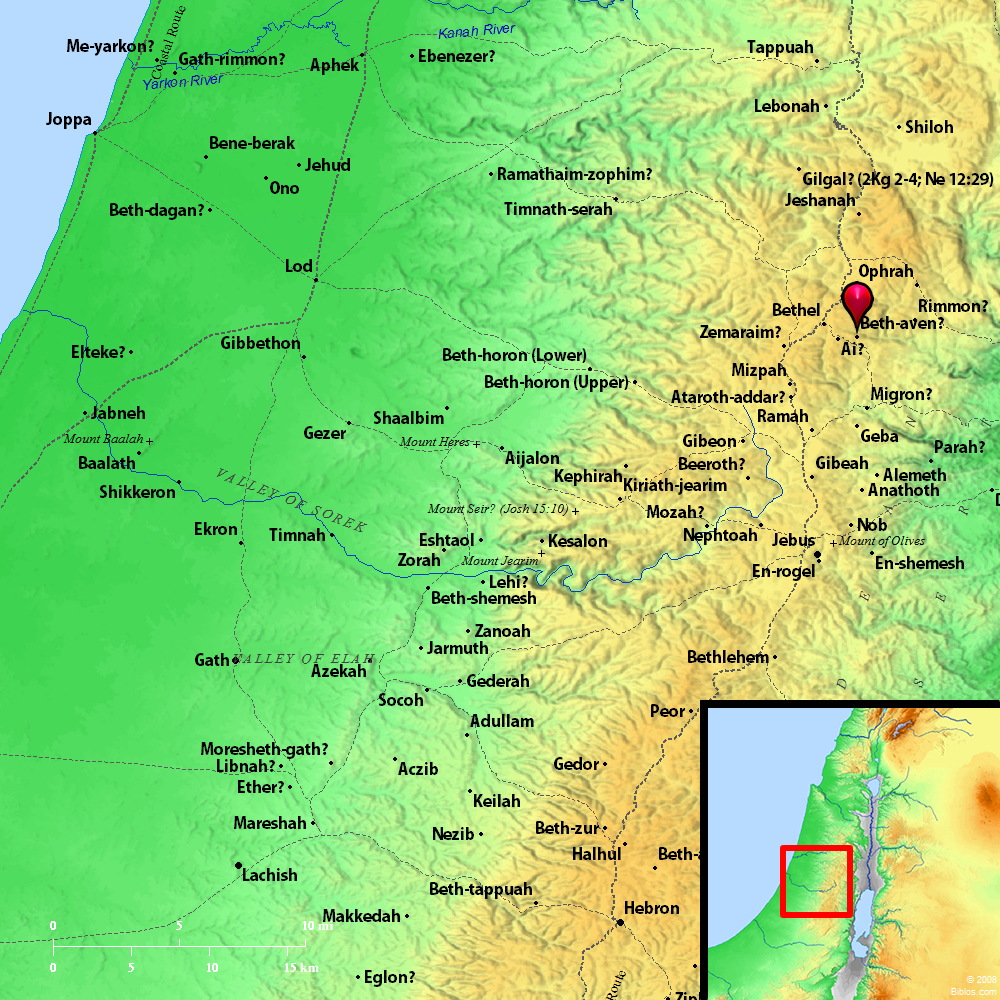 ---
Maps Created using Biblemapper 3.0
Additional data from OpenBible.info
Occurrences
Joshua 7:2
Joshua sent men from Jericho to Ai, which is beside Beth Aven, on the east side of Bethel, and spoke to them, saying, "Go up and spy out the land." The men went up and spied out Ai.
Joshua 18:12 Their border on the north quarter was from the Jordan. The border went up to the side of Jericho on the north, and went up through the hill country westward. It ended at the wilderness of Beth Aven.
1 Samuel 13:5 The Philistines assembled themselves together to fight with Israel, thirty thousand chariots, and six thousand horsemen, and people as the sand which is on the seashore in multitude: and they came up, and encamped in Michmash, eastward of Beth Aven.
1 Samuel 14:23 So Yahweh saved Israel that day: and the battle passed over by Beth Aven.
Hosea 4:15 "Though you, Israel, play the prostitute, yet don't let Judah offend; and don't come to Gilgal, neither go up to Beth Aven, nor swear,'As Yahweh lives.'
Hosea 5:8 "Blow the cornet in Gibeah, and the trumpet in Ramah! Sound a battle cry at Beth Aven, behind you, Benjamin!
Hosea 10:5 The inhabitants of Samaria will be in terror for the calves of Beth Aven; for its people will mourn over it, Along with its priests who rejoiced over it, for its glory, because it has departed from it.
Encyclopedia
BETH-AVEN
beth-a'-ven (beth 'awen; Baithon, Baithaun): A place on the northern boundary of the territory of Benjamin (Joshua 18:12) East of Bethel, near Ai (Joshua 7:2), West of Michmash (1 Samuel 13:5; 1 Samuel 14:23). Beth-aven, "house of vanity," i.e. "idolatry," may possibly represent an original beth-'on, "house of wealth." Wilson (PEFS, 1869, 126) suggests Khirbet An, West of Michmash. The name is used in mockery for Bethel by Hosea (4:15; 10:5, 8, etc.; compare Amos 5:5).
Strong's Hebrew
H1007: Beyth 'Aven
between