Atlas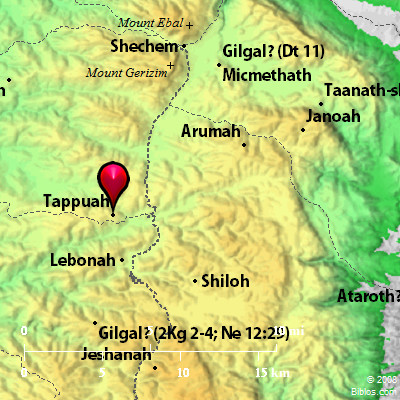 ---
Maps Created using Biblemapper 3.0
Additional data from OpenBible.info
Occurrences
Joshua 17:7
The border of Manasseh was from Asher to Michmethath, which is before Shechem. The border went along to the right hand, to the inhabitants of En Tappuah.
Encyclopedia
EN-TAPPUAH
en-tap'-u-a, en-ta-pu'-a (`en tappuach; pege Thaphthoth, "apple spring"):

Probably in the land of Tappuah which belonged to Manasseh, although Tappuah, on the border of Manasseh, belonged to Ephraim (Joshua 17:7 f). It lay on the border of Ephraim which ran southward East of Shechem, and is probably to be identified with the spring at Yasuf, about 3 miles North of Lebonah.
Strong's Hebrew
H5887: En Tappuach
"place of an apple tree," a city in Ephraim