Atlas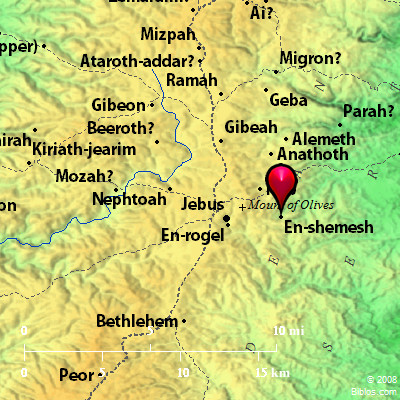 ---
Maps Created using Biblemapper 3.0
Additional data from OpenBible.info
Occurrences
Joshua 15:7
The border went up to Debir from the valley of Achor, and so northward, looking toward Gilgal, that is over against the ascent of Adummim, which is on the south side of the river. The border passed along to the waters of En Shemesh, and ended at En Rogel.
Joshua 18:17 It extended northward, went out at En Shemesh, and went out to Geliloth, which is over against the ascent of Adummim. It went down to the stone of Bohan the son of Reuben.
Encyclopedia
EN-SHEMESH
en-she'-mesh (`en shemesh, "spring of the sun"):

An important landmark on the boundary line between Judah and Benjamin (Joshua 15:7; Joshua 18:17).

The little spring `Ain el chand, East of Bethany, the last spring on the road descending to Jericho, seems to suit the conditions. `Ain el chaud is usually called the "Apostles' Fountain" by Christians, on account of a tradition dating from the 15th century that the apostles drank there.
---
EN-SHEM'ESH, fountain of the sun, is perhaps that spring now called The Apostles Spring, about 2 ms. e. of Jerusalem.
Strong's Hebrew
H5885: En Shemesh
"spring of (the) sun," a place on the border between Judah and Benjamin