Atlas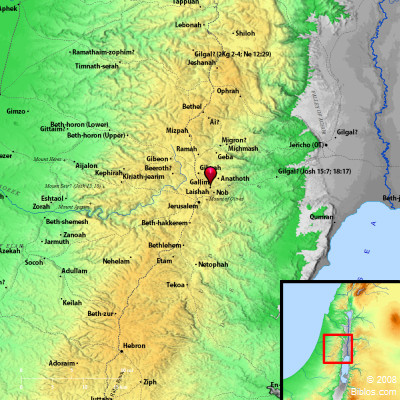 ---
Maps Created using Biblemapper 3.0
Additional data from OpenBible.info
---
You are free to use up to 50 Biblos coprighted maps (small or large) for your website or presentation. Please credit Biblos.com.
Occurrences
Isaiah 10:30
Cry aloud with your voice, daughter of Gallim! Listen, Laishah! You poor Anathoth!
Encyclopedia
LAISHAH
la-i'-sha, la'-ish-a (layshah, the King James Version, Laish): A place named in Isaiah 10:30 with Gallim and Anathoth. It should apparently be sought on the North of Jerusalem. Some would identify Gallim with Beit Jala, near Bethlehem. Conder suggests `Isawiyeh on the eastern slope, to the North-Northeast of the Mount of Olives.
Strong's Hebrew
H3919c: Layeshah
a place North of Jer.