Atlas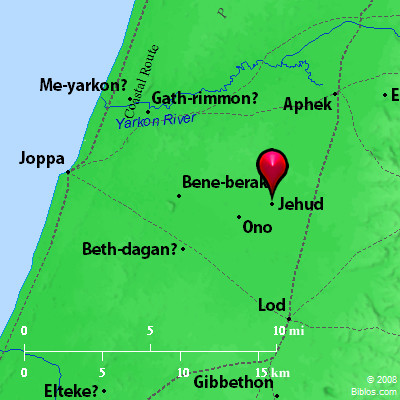 ---
Maps Created using Biblemapper 3.0
Additional data from OpenBible.info
---
You are free to use up to 50 Biblos coprighted maps (small or large) for your website or presentation. Please credit Biblos.com.
Occurrences
Joshua 19:45
Jehud, Bene Berak, Gath Rimmon,
Encyclopedia
JEHUD
je'-hud (yehudh): A town in the lot of Dan named between Baalath and Bene-berak (Joshua 19:45). The only possible identification seems to be with el-Yehudiyeh, which lies about 8 miles East of Jaffa.
---
JE'HUD, a village, now called Yehudiyeh, 8 ms. e. of Joppa, 27 ms. w. of Jerusalem, about 800 population.
Strong's Hebrew
H3055: Yehud
a place in Dan