Atlas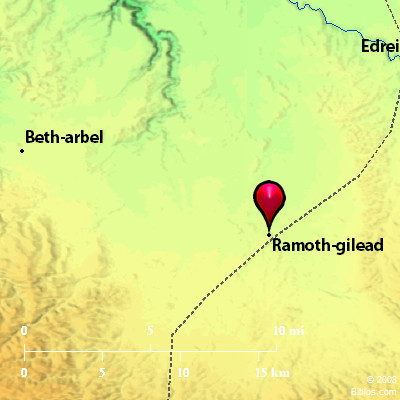 ---
Maps Created using Biblemapper 3.0
Additional data from OpenBible.info
---
You are free to use up to 50 Biblos coprighted maps (small or large) for your website or presentation. Please credit Biblos.com.
Occurrences
Genesis 31:47
Laban called it Jegar Sahadutha, but Jacob called it Galeed.
Encyclopedia
JEGAR-SAHA-DUTHA
je-gar-sa-ha-du'-tha (yeghar sahadhutha'; Septuagint Bounos marturei, "(the) mound witnesses"): The name given by the Aramean, Laban, to the "cairn of witness," called by Jacob GALEED (which see) (Genesis 31:47). The rest of the second part of this name appears again in Job 16:19, where sahadhi, should be rendered with the Revised Version (British and American), "he that voucheth for me," i.e. "my witness."
---
JE'GAR-SAHADU'THA, means "the heap," or pile of "testimony," see Gen. 31:47.
Strong's Hebrew
H3026: Yegar Sahadutha
"heap (of stones) of the testimony, " a memorial of Jacob and Laban