Atlas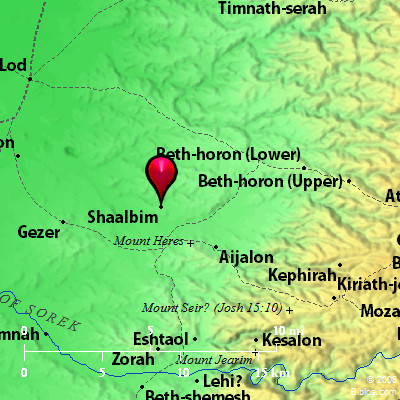 ---
Maps Created using Biblemapper 3.0
Additional data from OpenBible.info
Occurrences
Judges 1:35
but the Amorites would dwell in Mount Heres, in Aijalon, and in Shaalbim: yet the hand of the house of Joseph prevailed, so that they became subject to forced labor.
1 Kings 4:9 Ben Deker, in Makaz, and in Shaalbim, and Beth Shemesh, and Elon Beth Hanan;
Encyclopedia
SHAALBIM
sha-al'-bim (sha`albim; Codex Vaticanus Bethalamei; Codex Alexandrinus Salabeim, in Joshua, Codex Vaticanus and Codex Alexandrinus Thalabeim): When the Amorites had forced the children of Dan into the mountain they came and dwelt in Mt. Heres, Aijalon and Shaalbim, where, it appears, they were made tributary to the house of Joseph (Judges 1:35). In the time of Solomon it was included in the administrative district presided over by Ben-deker, along with Makaz, Beth-shemesh and Elon-beth-hanan (1 Kings 4:9). Beth-shemesh is the same as Ir-shemesh (Joshua 19:42). Shaalbim is probably only another name of Shaalabbin. One of David's mighty men is called Eliahba the Shaalbonite. This presumes the existence of a town called Shaalbon (2 Samuel 23:32 1 Chronicles 11:33), which again is probably identical with Shaalbim. Eusebius (in Onomasticon) identifies it with Salaba, a large village in the district of Sebaste (Samaria), which apparently Eusebius and Jerome thought to be in the territory of Dan. It seems, however, too far to the North. Jerome in his commentary on Ezekiel 48 speaks of the towers of Aijalon and Selebi and Emmaus. Conder would identify Selebi with Selbit, 3 miles Northwest of Aijalon (Yalo), and 8 miles North of Bethshemesh. This would suit for Shaalbim, as far as position is concerned; but it is difficult to account for the heavy "T" (Hebrew letter Tet) in the name, if derived from Shaalbim.

W. Ewing
---
SHAALAB'BIN, also Shaal'bim, now Selbit, 7 1/2 ms. s. e. of Lydda and 15 ms. w.n.w. from Jerusalem, now only ruins, 797 ft. above the Mediterranean.
Strong's Hebrew
H8169: Shaalbim
perhaps "(haunt of) foxes," a city in Dan