Atlas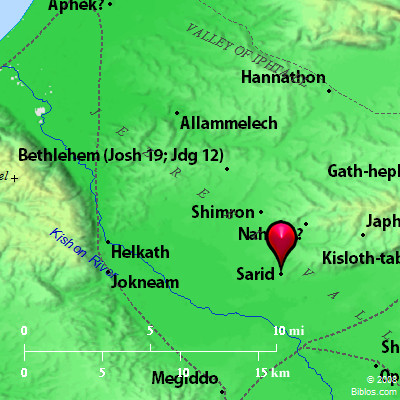 ---
Maps Created using Biblemapper 3.0
Additional data from OpenBible.info
Occurrences
Joshua 19:10
The third lot came up for the children of Zebulun according to their families. The border of their inheritance was to Sarid.
Joshua 19:12 It turned from Sarid eastward toward the sunrise to the border of Chisloth Tabor. It went out to Daberath, and went up to Japhia.
Encyclopedia
SARID
sa'-rid (saridh; Codex Vaticanus Esedekgola, Seddouk; Codex Alexandrinus Sarthid, Sarid): A place on the southern border of Zebulun to the West of Chisloth-tabor (Joshua 19:10, 12). It is mentioned but not identified in Eusebius, Onomasticon. Probably we should read "Sadid," and in that case may with Conder locate it at Tell Shaddu, an artificial mound with some modern ruins and good springs, which stands on the plain, about 5 miles West of Iksal.
Strong's Hebrew
H8301: Sariyd
a city on the border of Zebulun