Atlas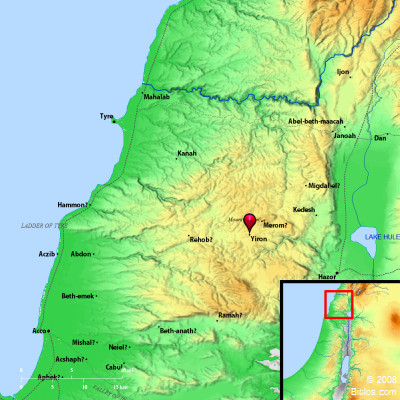 ---
Maps Created using Biblemapper 3.0
Additional data from OpenBible.info
Occurrences
Joshua 19:38
Iron, Migdal El, Horem, Beth Anath, and Beth Shemesh; nineteen cities with their villages.
Encyclopedia
IRON (2)
i'-ron (yir'on): One of the fenced cities in the territory of Naphtali, named with Migdal-el and En-hazor (Joshua 19:38). It is represented by the modern Yarun, a village with the ruins of a synagogue, at one time used as a monastery, fully 6 miles West of Qedes.
---
IRON, only in Josh. 19:38. now Yarun, perhaps, 10 ms. w. of the waters of Merom, 90 ms. n of Jerusalem and 2490 ft. above the Mediterranean.
Strong's Hebrew
H3375: Yiron
a city in Naphtali