Atlas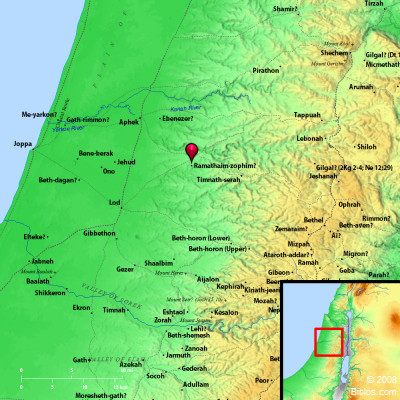 ---
Maps Created using Biblemapper 3.0
Additional data from OpenBible.info
Occurrences
1 Samuel 1:1
Now there was a certain man of Ramathaim Zophim, of the hill country of Ephraim, and his name was Elkanah, the son of Jeroham, the son of Elihu, the son of Tohu, the son of Zuph, an Ephraimite:
Encyclopedia
RAMATHAIM-ZOPHIM
ra-ma-tha'-im-zo'-fim.

See RAMAH, (4).
(4) Aramathaim: The home of Elkanah and Hannah, and the birthplace of Samuel (1 Samuel 1:19; 1 Samuel 2:11, etc.). In 1 Samuel 1:1 it is called "Ramathaim-zophim" (ha-ramathayim-tsophim). The phrase as it stands is grammatically incorrect, and suggests tampering with the text. It might possibly be translated "Ramathaim of the Zuphites." It was in Mt. Ephraim, within accessible distance of Shiloh, whither Samuel's parents went up from year to year to worship and to sacrifice (1:3). From Ramah as a center Samuel went on circuit annually, to judge Israel, to Bethel, Gilgal and Mizpah (7:16). It is very probable that this is the city in which, guided by his servant, Saul first made the acquaintance of Samuel (9:6, 10), where there was a high place (9:12). Hither at all events came the elders of Israel with their demand that a king should be set over them (8:4). After his final break with Saul, Samuel retired in sorrow to Ramah (15:34). Here, in Naioth, David found asylum with Samuel from the mad king (19:18, etc.), and hence, he fled on his ill-starred visit to Nob (20:1). In his native city the dust of the dead Samuel was laid (25:1; 28:3). In 1 Maccabees 11:34 it is named as one of the three toparchies along with Aphaerema and Lydda, which were added to Judea from the country of Samaria in 145 B.C. Eusebius, Onomasticon places it near Diospolis (Euseb.) in the district of Timnah (Jerome).

There are two serious rivals for the honor of representing the ancient Ramah.

(a) Beit Rima, a village occupying a height 13 miles East-Northeast of Lydda (Diospolis), 12 miles West of Shiloh, and about the same distance Northwest of Bethel. This identification has the support of G. A. Smith (Historical Geography of the Holy Land, 254), and Buhl (Geographic des Alten Palestina, 170).

(b) Ramallah, a large and prosperous village occupying a lofty position with ancient remains. It commands a wide prospect, especially to the West. It lies about 8 miles North of Jerusalem, 3 West of Bethel, and 12 Southwest of Shiloh. The name meaning "the height" or "high place of God" may be reminiscent of the high place in the city where Saul found Samuel. In other respects it agrees very well with the Biblical data.

Claims have also been advanced on behalf of Ramleh, a village 2 miles Southwest of Lydda, in the plain of Sharon. This, however, is out of the question, as the place did not exist before Arab times. Others support identification with Neby Samwil, which more probably represents the ancient MIZPAH (which see).


---
RAMATHAIM-ZOPHIM, supposed to be at Sob or Soba, 6 ms. w. of Jerusalem and called so only in 1 Sam. 1:1. The meaning is "the double heights of the watchmen."
Strong's Hebrew
H7436: Ramathayim Tsophim
"double height of watchers," a city in Ephraim