Atlas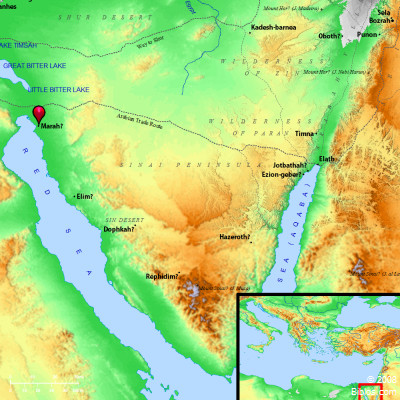 ---
Maps Created using Biblemapper 3.0
Additional data from OpenBible.info
Occurrences
Exodus 15:23
When they came to Marah, they couldn't drink from the waters of Marah, for they were bitter. Therefore its name was called Marah.
Numbers 33:8 They traveled from before Hahiroth, and passed through the midst of the sea into the wilderness: and they went three days' journey in the wilderness of Etham, and encamped in Marah.
Numbers 33:9 They traveled from Marah, and came to Elim: and in Elim were twelve springs of water, and seventy palm trees; and they encamped there.
Encyclopedia
MARAH
ma'-ra, mar'-a (marah, "bitter"): The first camp of the Israelites after the passage of the Red Sea (Exodus 15:23 Numbers 33:8 f). The name is derived from the bitterness of the brackish water. Moses cast a tree into the waters which were thus made sweet (Exodus 15:23).

See WANDERINGS OF ISRAEL.
Strong's Hebrew
H4785: Marah
a bitter spring in the Sinai peninsula