Atlas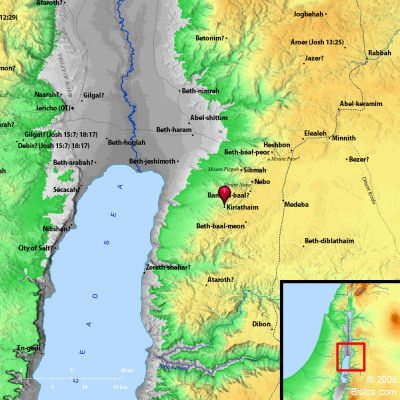 ---
Maps Created using Biblemapper 3.0
Additional data from OpenBible.info
Occurrences
Numbers 32:37
The children of Reuben built Heshbon, and Elealeh, and Kiriathaim,
Joshua 13:19 Kiriathaim, Sibmah, Zereth Shahar in the mount of the valley,
Jeremiah 48:1 Of Moab. Thus says Yahweh of Armies, the God of Israel: Woe to Nebo! for it is laid waste; Kiriathaim is disappointed, it is taken; Misgab is put to shame and broken down.
Jeremiah 48:23 and on Kiriathaim, and on Beth Gamul, and on Beth Meon,
Ezekiel 25:9 therefore, behold, I will open the side of Moab from the cities, from his cities which are on his frontiers, the glory of the country, Beth Jeshimoth, Baal Meon, and Kiriathaim,
Encyclopedia
KIRIATHAIM
kir-i-aitha'-im (qiryathaym, "two cities"; the King James Version, Kirjathaim):

(1) A city in the uplands of Moab formerly held by Sihon, and given by Moses to Reuben, who is said to have fortified it (Numbers 32:37 Joshua 13:19). It is named along with Elealeh and Nebo in the former passage, and with Sibmah in the latter. It was in the hands of Moab in Mesha's time, and he claims to have fortified it (M S, l.10). For Jeremiah (48:1, 23) and Ezekiel (25:9) it is a Moabite town. Eusebius, Onomasticon, identifies it with Coraitha, a Christian village 10 Roman miles West of Madeba. This is the modern Qaraiyat, about 11 miles West of Madeba, and 5 miles East of Macherus. This, however, may represent Kerioth, while the towns with which it is named would lead us to look for Kiriathaim to the North of Wady Zerqa Ma`in. From this city was named Shaveh-kiriathaim, "the plain of Kiriathaim" (Genesis 14:5).

(2) A city in the territory of Naphtali, assigned to the Gershonite Levites (1 Chronicles 6:76), corresponding to "Kartan" in Joshua 21:32.

W. Ewing
---
KIRIATHA'IM, or Kirjatha'im, meaning the double city, 8 ms. off the n.e. coast of the Dead Sea, 32 ms. e. by s. from Jerusalem and about 12 ms. s. from the n. end of the sea.
Strong's Hebrew
H7156: Qiryathayim
a city in Moab, also a place in Naphtali