Atlas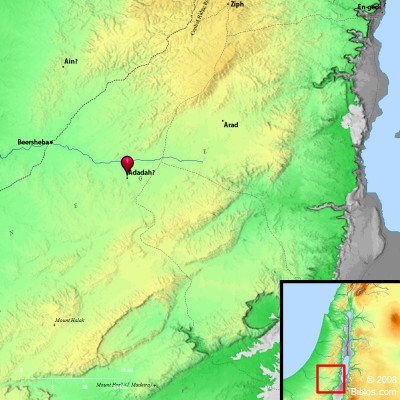 ---
Maps Created using Biblemapper 3.0
Additional data from OpenBible.info
Occurrences
Nehemiah 11:25
As for the villages, with their fields, some of the children of Judah lived in Kiriath Arba and its towns, and in Dibon and its towns, and in Jekabzeel and its villages,
Encyclopedia
JEKABZEL
je-kab'-ze-el (yeqabhtse'el, "God gathers"; Nehemiah 11:25).

See KABZEEL.
KABZEEL
kab'-ze-el, kab'-zel (kabhtse'el "(whom) God collects"): One of the "uttermost cities" of Judah toward the border of Edom in the South (Negeb) (Joshua 15:21). It was the native place of Benaiah, the son of Jehoiada, one of David's mighty men (2 Samuel 23:20 1 Chronicles 11:22). "Jekabzeel and the villages thereof," one of the places re-inhabited by the men of Judah (Nehemiah 11:25), appears to be the same place. The site is unknown.
Strong's Hebrew
H3343: Yeqabtseel
Jekabzeel