Atlas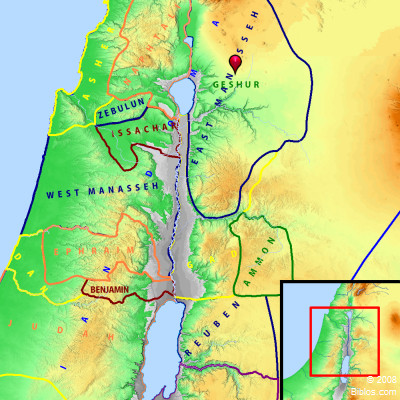 ---
Maps Created using Biblemapper 3.0
Additional data from OpenBible.info
Occurrences
Joshua 13:13
Nevertheless the children of Israel didn't drive out the Geshurites, nor the Maacathites: but Geshur and Maacath dwell in the midst of Israel to this day.
2 Samuel 3:3 and his second, Chileab, of Abigail the wife of Nabal the Carmelite; and the third, Absalom the son of Maacah the daughter of Talmai king of Geshur;
2 Samuel 13:37 But Absalom fled, and went to Talmai the son of Ammihur, king of Geshur. David mourned for his son every day.
2 Samuel 13:38 So Absalom fled, and went to Geshur, and was there three years.
2 Samuel 14:23 So Joab arose and went to Geshur, and brought Absalom to Jerusalem.
2 Samuel 14:32 Absalom answered Joab, "Behold, I sent to you, saying,'Come here, that I may send you to the king, to say, "Why have I come from Geshur? It would be better for me to be there still. Now therefore let me see the king's face; and if there is iniquity in me, let him kill me."'"
2 Samuel 15:8 For your servant vowed a vow while I abode at Geshur in Syria, saying,'If Yahweh shall indeed bring me again to Jerusalem, then I will serve Yahweh.'"
1 Chronicles 2:23 Geshur and Aram took the towns of Jair from them, with Kenath, and its villages, even sixty cities. All these were the sons of Machir the father of Gilead.
1 Chronicles 3:2 the third, Absalom the son of Maacah the daughter of Talmai king of Geshur; the fourth, Adonijah the son of Haggith;
Encyclopedia
GESHUR
ge'-shur (geshur, "bridge"): An Aramean kingdom (2 Samuel 15:8) of no great size which lay probably to the South of Maacah, and formed with it the western boundary of the land of Bashan (Deuteronomy 3:14 Joshua 12:5; Joshua 13:11). The territory of these two probably corresponded roughly with modern Jaulan. It may not have reached quite to the Jordan on the West; in which case the Geshurites literally dwelt "in the midst" of Israel (Joshua 13:13), since they were not expatriated by the half-tribe of Manasseh, and they retained their independence. David married Maacah, daughter of Talmai, king of Geshur, who became the mother of Absalom and Tamar (2 Samuel 3:3). To Talmai Absalom fled for safety after the murder of Amnon (2 Samuel 13:37 f), and thence Joab brought him back to Jerusalem (2 Samuel 14:23). The Geshurites and Aram are said to have taken the cities of Jair-i.e. Havvoth-jair-which lay in the land of Gilead (1 Chronicles 2:23). It is possible that "Geshurites" should be read, with Vulgate, Syriac, etc., instead of "Ashurites" in 2 Samuel 2:9. The only difficulty is that Geshur was an independent kingdom, and there is nothing to show how it was brought under the sway of the son of Saul. In the catalogue of land still to be possessed in Joshua 13:2, the King James Version reads "Geshuri," the Revised Version (British and American) "the Geshurites," referring evidently to a district bordering on the Philistines. Both the King James Version and the Revised Version (British and American) render the same word by "Geshurites" in 1 Samuel 27:8, where apparently the same territory is indicated as invaded by David. In neither passage is the text above suspicion; in 1 Samuel 27:8 Septuagint's Codex Vaticanus omits the name. No satisfactory explanation has been suggested.

W. Ewing
Strong's Hebrew
H1650: Geshur
a territory East of the upper Jordan, also inhab. of Geshur