Atlas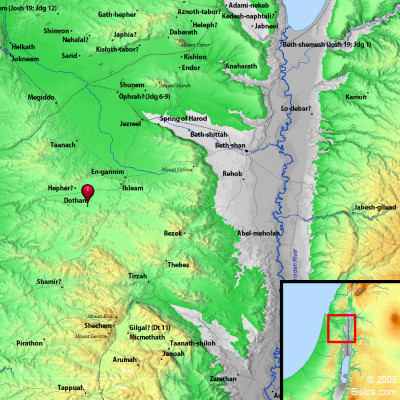 ---
Maps Created using Biblemapper 3.0
Additional data from OpenBible.info
Occurrences
Genesis 37:17
The man said, "They have left here, for I heard them say,'Let us go to Dothan.'" Joseph went after his brothers, and found them in Dothan.
Genesis 37:25 They sat down to eat bread, and they lifted up their eyes and looked, and saw a caravan of Ishmaelites was coming from Gilead, with their camels bearing spices and balm and myrrh, going to carry it down to Egypt.
2 Kings 6:13 He said, "Go and see where he is, that I may send and get him." It was told him, saying, "Behold, he is in Dothan."
Encyclopedia
DOTHAN
do'-than (dothayin, dothan, "two wells," "double feast"; Dothaeim): A place to the North of Shechem whither Jacob's sons went for pasture for the flocks; where Joseph who followed them was sold to the Ishmaelites, after having been imprisoned in a "pit" (Genesis 37:17). Here in later days the eyes of Elisha's servant were opened to see the mountain "full of horses and chariots of fire," guarding his master from the encircling Syrians (2 Kings 6:13). This is certainly to be identified with Tell Dothan, which lies on the East of the ancient road leading from Gilead across Esdraelon to the seacoast, and thence to Egypt. It is about 5 miles to the Southwest of Jenin. There are some traces of old buildings, two cisterns-Dothayin or Dothayin = "two cisterns" or "pits"-and one copious spring. Excellent pasture is found in the surrounding plain, and on the adjoining slopes.

W. Ewing
---
DOTHAN, now tell Dothan, 42 ms. n. of Jerusalem, 5 ms. s.w. of Jenin on the s. of a beautiful plain but with only a few ruins on a hill.
Strong's Hebrew
H1886: Dothan
a place North of Samaria