Atlas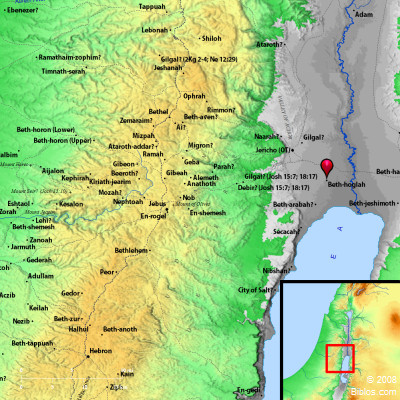 ---
Maps Created using Biblemapper 3.0
Additional data from OpenBible.info
Occurrences
Joshua 15:6
The border went up to Beth Hoglah, and passed along by the north of Beth Arabah; and the border went up to the stone of Bohan the son of Reuben.
Joshua 18:19 The border passed along to the side of Beth Hoglah northward; and the border ended at the north bay of the Salt Sea, at the south end of the Jordan. This was the south border.
Joshua 18:21 Now the cities of the tribe of the children of Benjamin according to their families were Jericho, Beth Hoglah, Emek Keziz,
Encyclopedia
BETH-HOGLAH
beth-hog'-la (beth-choghlah; Septuagint Baithaglaam, "house of partridge"): Mentioned in Joshua 15:6; Joshua 18:19, identified with Ain Haijab ("partridge spring") lying between Jericho and the Jordan, where in 1874 there was still a ruined Greek monastery called Kasr Hajlah, dating from the 12th century. The ruins are now destroyed. In Joshua 15:5; Joshua 18:19 it is said to be at the mouth of the Jordan on a Tongue (Lisan) of the Salt Sea. But it is now several miles inland, probably because the Jordan has silt edition up a delta to that extent.

See DEAD SEA.

George Frederick Wright
---
BETH-HO'GLAH, or Hoglah, now Ain Hajlah between Jericho and the Jordan. Only three times mentioned.
Strong's Hebrew
H1031: Beth Choglah
"place of partridge," a place in Benjamin