Atlas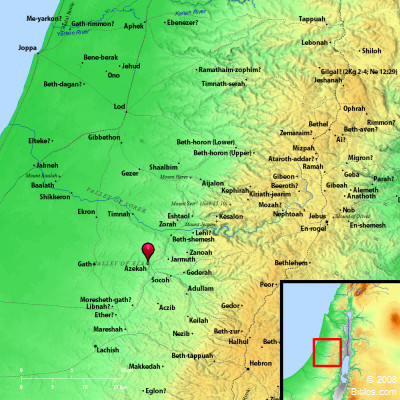 ---
Maps Created using Biblemapper 3.0
Additional data from OpenBible.info
Occurrences
Joshua 10:10
Yahweh confused them before Israel, and he killed them with a great slaughter at Gibeon, and chased them by the way of the ascent of Beth Horon, and struck them to Azekah and to Makkedah.
Joshua 10:11 It happened, as they fled from before Israel, while they were at the descent of Beth Horon, that Yahweh cast down great stones from the sky on them to Azekah, and they died. There were more who died from the hailstones than who the children of Israel killed with the sword.
Joshua 15:35 Jarmuth, Adullam, Socoh, Azekah,
1 Samuel 17:1 Now the Philistines gathered together their armies to battle; and they were gathered together at Socoh, which belongs to Judah, and encamped between Socoh and Azekah, in Ephesdammim.
2 Chronicles 11:9 and Adoraim, and Lachish, and Azekah,
Nehemiah 11:30 Zanoah, Adullam, and their villages, Lachish and its fields, Azekah and its towns. So they encamped from Beersheba to the valley of Hinnom.
Jeremiah 34:7 when the king of Babylon's army was fighting against Jerusalem, and against all the cities of Judah that were left, against Lachish and against Azekah; for these alone remained of the cities of Judah as fortified cities.
Encyclopedia
AZEKAH
a-ze'-ka `azekah: A town of some importance in the Shephelah of Judah mentioned (Joshua 15:35) next to Socoh. In Joshua 10:10 the defeated kings of the Arnorites are described as flying before Joshua "by the way of the ascent of Beth-horon. to Azekah, and unto Makkedah" and (Joshua 10:11) as the host fled "Yahweh cast down great stones from heaven upon them unto Azekah, and they died." In 1 Samuel 17:1 it is recorded that before David's combat with Goliath, the Philistines "gathered together at Socoh, which belongeth to Judah, and encamped between Socoh and Azekah, in Ephes-dammin." In 2 Chronicles 11:9 it is mentioned as one of the frontier cities which Rehoboam fortified and in Jeremiah 34:7 it is one of the two fortified cities remaining to Judah in the Shephelah which Nebuchadnezzar was besieging. "Azekah and the towns (margin, "daughters") thereof" is mentioned among the cities reoccupied by Jews returning after the Exile (Nehemiah 11:30). In all the three last references the place is mentioned along with Lachish.

All the data suit Tell Zaqareyeh on the North side of the Vale of Elah (Wady es-Sunt) and some 3 miles Northwest of Socoh (Kh. Shuweikeh). This site, which was partially excavated by the Palestine Exploration Fund, is one of great natural strength. "The hill stands almost isolated, rising abruptly for almost 350 ft. above the Vale of Elah;. to the West the fall is also very great, while to the South the tell is joined by a neck of land (about 100 ft. below the summit) to a hill behind." The summit is about 350 yds. by 150 yds., and is much larger than Tell el-Chesy (Lachish) (Bliss). Excavations showed that it was a very ancient site which had been powerfully fortified, and the rock under the city was excavated in a series of very extraordinary underground chambers which could be used as places of refuge. The site suits the narrative of Joshua's battle every well, as there is a long-used high route running North to South from the neighborhood of Ajalon. Its position as a frontier fortress is comparable with that of Lachish: the name Zakareyeh, seems to be a survival of Azekah. See PEFS, 1899, 10; PEF, III, 441.

E. W. G. Masterman
---
AZE'KAH, near Shocoh in the valley of Elah, 17 ms. w. by s. from Jerusalem.
Strong's Hebrew
H5825: Azeqah
a place in Judah