Atlas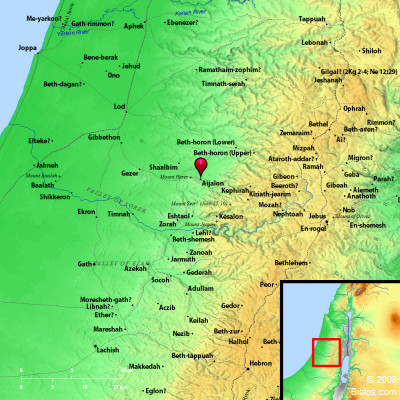 ---
Maps Created using Biblemapper 3.0
Additional data from OpenBible.info
Occurrences
Joshua 19:42
Shaalabbin, Aijalon, Ithlah,
Joshua 21:24 Aijalon with its suburbs, Gath Rimmon with its suburbs; four cities.
Judges 1:35 but the Amorites would dwell in Mount Heres, in Aijalon, and in Shaalbim: yet the hand of the house of Joseph prevailed, so that they became subject to forced labor.
Judges 12:12 Elon the Zebulunite died, and was buried in Aijalon in the land of Zebulun.
1 Samuel 14:31 They struck of the Philistines that day from Michmash to Aijalon. The people were very faint;
1 Chronicles 6:69 and Aijalon with its suburbs, and Gath Rimmon with its suburbs;
1 Chronicles 8:13 and Beriah, and Shema, who were heads of fathers' houses of the inhabitants of Aijalon, who put to flight the inhabitants of Gath;
2 Chronicles 11:10 and Zorah, and Aijalon, and Hebron, which are in Judah and in Benjamin, fortified cities.
2 Chronicles 28:18 The Philistines also had invaded the cities of the lowland, and of the South of Judah, and had taken Beth Shemesh, and Aijalon, and Gederoth, and Soco with its towns, and Timnah with its towns, Gimzo also and its towns: and they lived there.
Encyclopedia
AIJALON
a'-ja-lon ('ayyalon, "deerplace"; the King James Version, Ajalon (Joshua 10:12)):

(1) The name of a town allotted to the tribe of Dan (Joshua 19:42), which was also designated a Levitical city (Joshua 21:24), which fell to the Sons of Kohath (1 Chronicles 6:69). The first mention of Aijalon is in the narrative of Joshua's defeat of the five Amorite kings: "thou, Moon, in the valley of Aijalon" (Joshua 10:12). The Danites failed to take it from the Amorites (Judges 1:35), although the men of Ephraim held it in vassalage. Here Saul and Jonathan won a great victory over the Philistines (1 Samuel 14:31). At one time it was held by the tribe of Benjamin (1 Chronicles 8:13). Rehoboam fortified it against the kingdom of Israel (2 Chronicles 11:10). In the days of King Ahaz it was captured by the Philistines (2 Chronicles 28:18). It has been identified with the modern Yalo; its antiquity goes back to Tell el-Amarna Letters, in which it has mention. It Is situated Northwest of Jerusalem in a valley of the same name, which leads down from the mountains to the sea.

(2) A town in the tribe of Zebulun, site unknown, where Elon the judge was buried (Judges 12:12).

Edward Mack
---
AJ'ALON, now Yalo, a Levitical city of Dan, 12 1/2 ms. w. by n. of Jerusalem, in a valley-plain about 700 ft. above the sea, called the VALLEY OF AJALON.
Strong's Hebrew
H357: Ayyalon
"deer," the name of several cities in Palestine