Atlas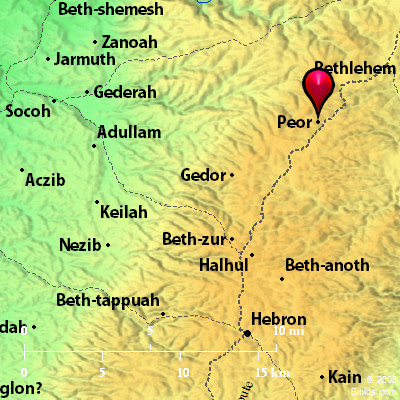 ---
Maps Created using Biblemapper 3.0
Additional data from OpenBible.info
Occurrences
Numbers 23:28
Balak took Balaam to the top of Peor, that looks down on the desert.
Numbers 24:8 God brings him out of Egypt. He has as it were the strength of the wild ox. He shall eat up the nations his adversaries, shall break their bones in pieces, and pierce them with his arrows.
Numbers 24:17 I see him, but not now. I see him, but not near. A star will come out of Jacob. A scepter will rise out of Israel, and shall strike through the corners of Moab, and break down all the sons of Sheth.
Numbers 24:18 Edom shall be a possession. Seir, his enemies, also shall be a possession, while Israel does valiantly.
Numbers 24:20 He looked at Amalek, and took up his parable, and said, "Amalek was the first of the nations, But his latter end shall come to destruction."
Numbers 24:22 Nevertheless Kain shall be wasted, until Asshur carries you away captive."
Numbers 24:24 But ships shall come from the coast of Kittim. They shall afflict Asshur, and shall afflict Eber. He also shall come to destruction."
Numbers 25:3 Israel joined himself to Baal Peor: and the anger of Yahweh was kindled against Israel.
Numbers 25:5 Moses said to the judges of Israel, "Everyone kill his men who have joined themselves to Baal Peor."
Numbers 25:15 The name of the Midianite woman who was slain was Cozbi, the daughter of Zur; he was head of the people of a fathers' house in Midian.
Numbers 25:18 for they harassed you with their wiles, with which they have deceived you in the matter of Peor, and in the matter of Cozbi, the daughter of the prince of Midian, their sister, who was slain on the day of the plague in the matter of Peor."
Numbers 31:16 Behold, these caused the children of Israel, through the counsel of Balaam, to commit trespass against Yahweh in the matter of Peor, and so the plague was among the congregation of Yahweh.
Deuteronomy 4:3 Your eyes have seen what Yahweh did because of Baal Peor; for all the men who followed Baal Peor, Yahweh your God has destroyed them from the midst of you.
Joshua 22:17 Is the iniquity of Peor too little for us, from which we have not cleansed ourselves to this day, although there came a plague on the congregation of Yahweh,
Encyclopedia
PEOR
pe'-or (ha-pe`or; Phogor):

(1) A mountain in the land of Moab, the last of the three heights to which Balaam was guided by Balak in order that he might curse Israel (Numbers 23:28). It is placed by Eusebius, Onomasticon on the way between Livias and Heshbon, 7 Roman miles from the latter. Buhl would identify it with Jebel el-Mashaqqar, on which are the ruins of an old town, between Wady A`yun Musa and Wady Chesban.

(2) A town in the Judean uplands added by Septuagint (Phagor) to the list in Joshua 15:9. It may be identical with Khirbet Faghur to the South of Bethlehem.

(3) Peor, in Numbers 25:18; Numbers 31:16 Joshua 22:17, is a divine name standing for "Baal-peor."

(4) In Genesis 36:39, Septuagint reads Phogor for "Pau" (Massoretic Text), which in 1 Chronicles 1:50 appears as "Pai."

W. Ewing
---
PE'OR, supposed to be upon Pisgah; the name is found only in Numb. 23:28.
Strong's Hebrew
H6465: Peor
a mountain in Moab, also a god worshiped there