Atlas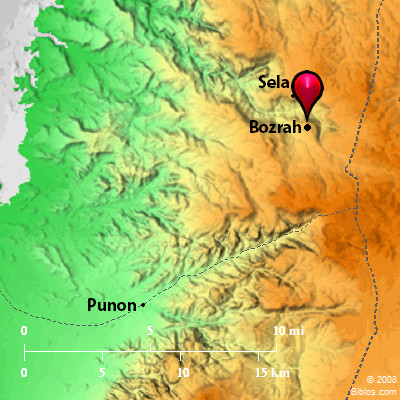 ---
Maps Created using Biblemapper 3.0
Additional data from OpenBible.info
Occurrences
Obadiah 1:8
"Won't I in that day," says Yahweh, "destroy the wise men out of Edom, and understanding out of the mountain of Esau?
Obadiah 1:9 Your mighty men, Teman, will be dismayed, to the end that everyone may be cut off from the mountain of Esau by slaughter.
Obadiah 1:19 Those of the South will possess the mountain of Esau, and those of the lowland, the Philistines. They will possess the field of Ephraim, and the field of Samaria. Benjamin will possess Gilead.
Obadiah 1:21 Saviors will go up on Mount Zion to judge the mountains of Esau, and the kingdom will be Yahweh's.
Encyclopedia
BOZRAH
boz'-ra (botsrah, "sheepfold"; Bosorrha, Bosor):

(1) The capital of Edom, a city of great antiquity (Genesis 36:33 1 Chronicles 1:44 Isaiah 34:6; Isaiah 63:1 Jeremiah 49:13 Amos 1:12). It may be identical with Buceirah, which lies about 7 miles Southwest of Tufileh, on the main road to Petra.

(2) A city in Moab mentioned in Jeremiah 48:24. It is probably identical with Bezer, the city of refuge. It may be represented today by Qusur Bashair, which towers lie some 15 miles Southeast of Dibon. In this case Beth-gamul would be identical with Jemail, 8 miles East of Dibon, and Beth-meon with Ma`in, Southwest of Medebah.

W. Ewing