Atlas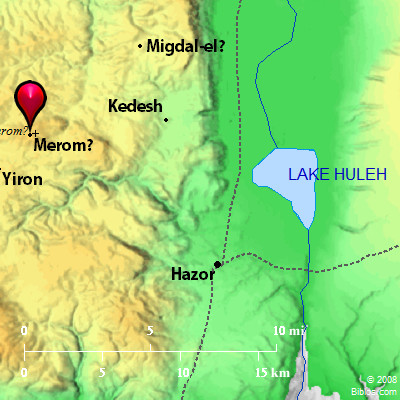 ---
Maps Created using Biblemapper 3.0
Additional data from OpenBible.info
Occurrences
Joshua 11:5
All these kings met together; and they came and encamped together at the waters of Merom, to fight with Israel.
Joshua 11:7 So Joshua came, and all the people of war with him, against them by the waters of Merom suddenly, and fell on them.
Encyclopedia
MEROM, WATERS OF
me'-rom (me-merom; hudor Marron or hudor Merron): The place which was the scene of Joshua's victory over Jabin and his confederates (Joshua 11:7), commonly identified with Lake Huleh in the upper part of the Jordan valley, but with doubtful propriety. Josephus says (Ant., V, i, 18) that the camp of the allies was at Beroth in upper Galilee, and that Beroth was not far from Kadesh, which is upon the summit of the Galilean hills. According to the Scriptural account, the pursuit was to Sidon and Hazor on the West of the mountains (see HAZOR), while the names of the confederates are those of places in lower Galilee and the maritime plain. It seems improbable that a force of chariots should be brought over to be hemmed in by the rugged mountains which border the narrow plain of Huleh on both sides, plains that are made still narrower by the swamps surrounding the lake (see JORDAN VALLEY) in Joshua's time, when they were much larger than they are now after having been filled with the accumulation of sediment brought down by mountain streams for 3,000 years. Conder, with much reason, supposes the "waters of Merom" to be the perennial stream Wady el-Melek, near Shimrom-Merom (Semunieh), 5 miles West of Nazareth. Were Lake Huleh referred to, the proper phrase would be Sea (yam) of Merom, rather than waters (mayim).

George Frederick Wright
---
ME'ROM, waters of, now lake Huleh, 10 ms. n. of the sea of Tiberias and 90 ms. n. of Jerusalem; 3 1/2 ms. long and 3 wide, 7 ft. above the Mediterranean and 10 to 11 ft. deep.
Strong's Hebrew
H4792: Merom
a place in Upper Galilee