Atlas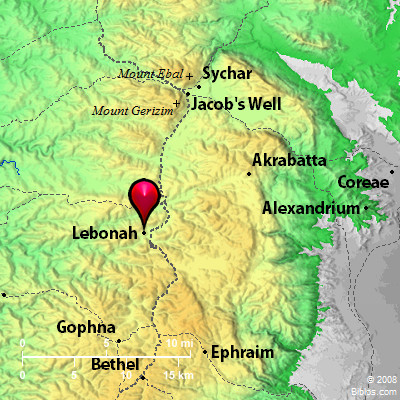 ---
Maps Created using Biblemapper 3.0
Additional data from OpenBible.info
Occurrences
Judges 21:19
They said, "Behold, there is a feast of Yahweh from year to year in Shiloh, which is on the north of Bethel, on the east side of the highway that goes up from Bethel to Shechem, and on the south of Lebonah."
Encyclopedia
LEBONAH
le-bo'-na (lebhonah): A place on the great north road between Shiloh and Shechem (Judges 21:19). It is represented by the modern Khan el-Lubban, about 3 miles West-Northwest of Seilun ("Shiloh"), on the way to Nablus. It is a wretched village lying on the slope of a hill, with many rock tombs in the vicinity.
---
LEBO'NAH, now el Lubban, 19 1/2 ms. due n. of Jerusalem, on the e. side of a hill, 1850 ft. above the Mediterranean.
Strong's Hebrew
H3829: Lebonah
a place near Shiloh