Atlas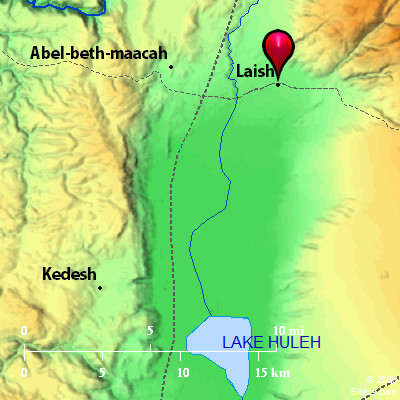 ---
Maps Created using Biblemapper 3.0
Additional data from OpenBible.info
Occurrences
Judges 18:7
Then the five men departed, and came to Laish, and saw the people who were therein, how they lived in security, after the manner of the Sidonians, quiet and secure; for there was none in the land, possessing authority, that might put them to shame in anything, and they were far from the Sidonians, and had no dealings with any man.
Judges 18:14 Then the five men who went to spy out the country of Laish answered, and said to their brothers, "Do you know that there is in these houses an ephod, and teraphim, and an engraved image, and a molten image? Now therefore consider what you have to do."
Judges 18:27 They took that which Micah had made, and the priest whom he had, and came to Laish, to a people quiet and secure, and struck them with the edge of the sword; and they burnt the city with fire.
Judges 18:29 They called the name of the city Dan, after the name of Dan their father, who was born to Israel: however the name of the city was Laish at the first.
Encyclopedia
LAISH
la'-ish (layish):

(1) A city in the upper Jordan valley, apparently colonized by the Sidonians, which was captured by the Danites and called DAN (which see) (Judges 18:7, etc.; Isaiah 10:30 the King James Version). In Joshua 19:47 the name appears as "Leshem."

(2) A Benjamite, father of Palti or Paltiel, to whom Michal, David's wife, was given by Saul (1 Samuel 25:44 2 Samuel 3:15).