Atlas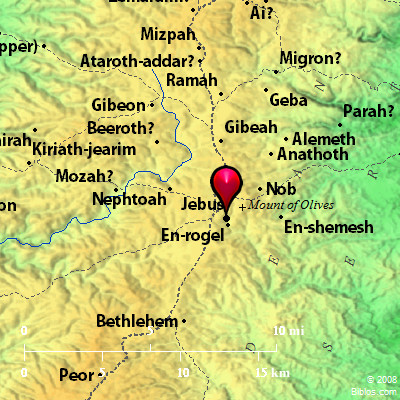 ---
Maps Created using Biblemapper 3.0
Additional data from OpenBible.info
Occurrences
Joshua 15:8
The border went up by the valley of the son of Hinnom to the side of the Jebusite southward (the same is Jerusalem); and the border went up to the top of the mountain that lies before the valley of Hinnom westward, which is at the farthest part of the valley of Rephaim northward.
Joshua 18:28 Zelah, Eleph, the Jebusite (the same is Jerusalem), Gibeath, and Kiriath; fourteen cities with their villages. This is the inheritance of the children of Benjamin according to their families.
Judges 19:10 But the man wouldn't stay that night, but he rose up and departed, and came over against Jebus (the same is Jerusalem): and there were with him a couple of donkeys saddled; his concubine also was with him.
Judges 19:11 When they were by Jebus, the day was far spent; and the servant said to his master, "Please come and let us turn aside into this city of the Jebusites, and lodge in it."
1 Chronicles 11:4 David and all Israel went to Jerusalem (the same is Jebus); and the Jebusites, the inhabitants of the land, were there.
1 Chronicles 11:5 The inhabitants of Jebus said to David, "You shall not come in here." Nevertheless David took the stronghold of Zion. The same is the city of David.
Encyclopedia
JEBUS
je'-bus (yebhuc; Iebous): In Judges 19:10, 11, "Jebus (the same is Jerusalem)"; 1 Chronicles 11:4, 5, "Jerusalem (the same is Jebus)." It was once thought that this was the first name of Jerusalem, as indeed might be suggested by the Biblical references, but it is now known from the Tell el-Amarna Letters that Urusa-lem was a name used centuries before the time of David (see JERUSALEM, I). It would appear probable that the name "Jebus" was evolved by the Hebrews as an alternate name, and possibly they may have imagined an earlier name, for Jerusalem from JEBUSITE (which see), the name of the local tribe who owned the district in the first centuries of Israel's occupation of Canaan.

E. W. G. Masterman
---
JEBUS, the ancient name of a town which occupied the site of Jerusalem before the latter was built. Judg. 19:10, 11.
Strong's Hebrew
H2982: Yebus
an early name of Jer.