Atlas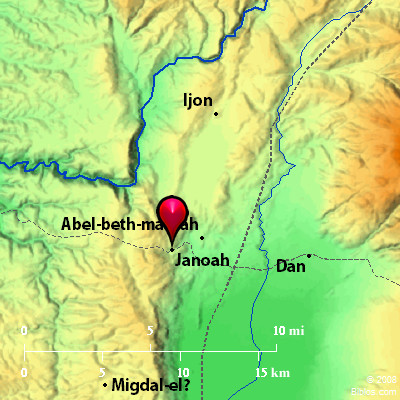 ---
Maps Created using Biblemapper 3.0
Additional data from OpenBible.info
Occurrences
Joshua 16:6
The border went out westward at Michmethath on the north. The border turned about eastward to Taanath Shiloh, and passed along it on the east of Janoah.
Joshua 16:7 It went down from Janoah to Ataroth, to Naarah, reached to Jericho, and went out at the Jordan.
Encyclopedia
JANOAH
ja-no'-a (yanoach, "resting-place"):

(1) A place named on the eastern boundary of Ephraim (Joshua 16:6 f; the King James Version "Janohah"). Eusebius, Onomasticon (s.v. "Jano") places it in Akrabattine, 12 Roman miles East of Neapolis (Nablus). This points definitely to Khirbet Yanun. On a hill near by, the Moslems show the Maqam of Neby Nun, the father of Joshua.

(2) A town in the uplands of Naphtali, mentioned as having been captured and depopulated by Tiglathpileser. It is named with Abel-beth-maacah and Kedesh (2 Kings 15:29). It may be identical with Yanuch, a village about 6 miles East of Tyre.

W. Ewing
---
JANO'HAH, now Yanun, about 8 ms. s.e. of Shechem, where there are buried ruins, 25 ms. n. from Jerusalem.
Strong's Hebrew
H3239: Yanowach
a place in Northern Israel