Atlas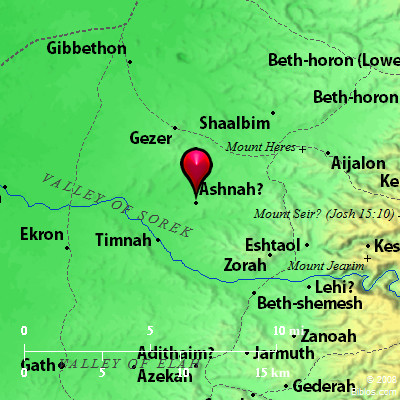 ---
Maps Created using Biblemapper 3.0
Additional data from OpenBible.info
Occurrences
Joshua 15:43
Iphtah, Ashnah, Nezib,
Encyclopedia
ASHNAH
ash'-na ('ashnah): Two sites,

(1) Joshua 15:33, a site in the lowlands of Judah, probably near Estaol and Zorah. The small ruin Aslin between those two places may retain an echo of the old name;

(2) Joshua 15:43 an unknown site farther south.
---
JIPH'THAH-EL, a valley, but named after a town, now Jefat, but only ruins, 1363 ft. above the Mediterranean, 14 ms. w. of the sea of Tiberias and 70 ms. n. of Jerusalem. Just s. is the valley plain of Buttauf, 9 ms. e. and w. and 2 ms. wide. Josh. 19:14, 27.
Strong's Hebrew
H3317: Yiphtach-el
"God opens," a valley between Zebulun and Asher