Atlas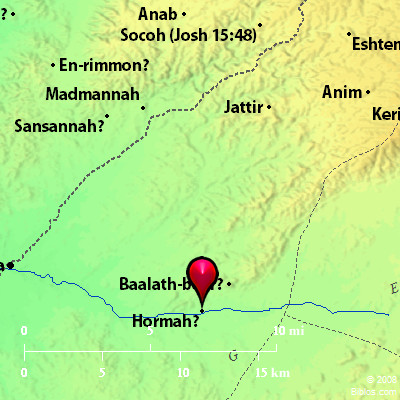 ---
Maps Created using Biblemapper 3.0
Additional data from OpenBible.info
Occurrences
Numbers 14:45
Then the Amalekite came down, and the Canaanite who lived in that mountain, and struck them and beat them down, even to Hormah.
Numbers 21:3 Yahweh listened to the voice of Israel, and delivered up the Canaanites; and they utterly destroyed them and their cities: and the name of the place was called Hormah.
Deuteronomy 1:44 The Amorites, who lived in that hill country, came out against you, and chased you, as bees do, and beat you down in Seir, even to Hormah.
Joshua 12:14 the king of Hormah, one; the king of Arad, one;
Joshua 15:30 Eltolad, Chesil, Hormah,
Joshua 19:4 Eltolad, Bethul, Hormah,
Judges 1:17 Judah went with Simeon his brother, and they struck the Canaanites who inhabited Zephath, and utterly destroyed it. The name of the city was called Hormah.
1 Samuel 30:30 and to those who were in Hormah, and to those who were in Borashan, and to those who were in Athach,
1 Chronicles 4:30 and at Bethuel, and at Hormah, and at Ziklag,
Encyclopedia
HORMAH
hor'-ma (chormah): A city first mentioned in connection with the defeat of the Israelites by the Amalekites and the Canaanites, when, after the ten spies who brought an evil report of the land had died of plague, the people persisted, against the will of Moses, in going "up unto the place which Yahweh hath promised" (Numbers 14:45 Deuteronomy 1:44). after the injury done them by the king of Arad, Israel took the city, utterly destroyed it, and called it Hormah, i,e. "accursed" (Numbers 21:3). To this event probably the reference is in Judges 1:17; where Judah and Simeon are credited with the work. In Joshua 12:14 it is named between Geder and Arad; in Joshua 15:30 between Chesil and Ziklag, among the uttermost cities toward the border of Edom in the South; and in Joshua 19:4 between Bethul and Ziklag (compare 1 Chronicles 4:30). To it David sent a share of the spoil taken from the Amalekites who had raided Ziklag (1 Samuel 30:30). The city must have lain not far from Kadesh, probably to the Northeast. No name resembling Hormah has been recovered in that district. The ancient name was Zephath (Judges 1:17). It is not unlikely that in popular use this name outlived Hormah: and in some form it may survive to this day. In that case it may be represented by the modern ec-Cabaita between el-Khalaca in the North and `Ain Qadis in the South, about 23 miles from the latter. If we may identify Ziklag with `Asluj, about 14 miles North of ec-Cabaita, the probability is heightened. Robinson (BR, III, 150) compares the name Zephath with that of Naqb ec-Cafa, to the North of Wady el-Fiqrah; but this appears to be too far-about 40 miles-from Kadesh.

W. Ewing
Strong's Hebrew
H2767: Chormah
"asylum," a place in Simeon