Atlas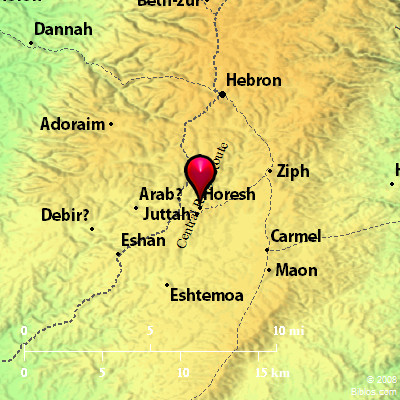 ---
Maps Created using Biblemapper 3.0
Additional data from OpenBible.info
Occurrences
1 Samuel 23:15
David saw that Saul had come out to seek his life. David was in the wilderness of Ziph in the wood.
1 Samuel 23:16 Jonathan, Saul's son, arose, and went to David into the woods, and strengthened his hand in God.
1 Samuel 23:18 They both made a covenant before Yahweh: and David stayed in the woods, and Jonathan went to his house.
1 Samuel 23:19 Then the Ziphites came up to Saul to Gibeah, saying, "Doesn't David hide himself with us in the strongholds in the wood, in the hill of Hachilah, which is on the south of the desert?
Encyclopedia
HORESH
ho'-resh (choreshah, 1 Samuel 23:15, 18, margin only; Septuagint en Te Kaine, "in the New"; English Versions of the Bible "in the wood" (ba-choreshdh), the particle "in" being combined with the article): Choresh in other passages is translated "forest" (compare 2 Chronicles 27:4 Isaiah 17:9 Ezekiel 31:3) and it is most probable that it should be so translated here.
Strong's Hebrew
H2793: choresh
wood, wooded height