Atlas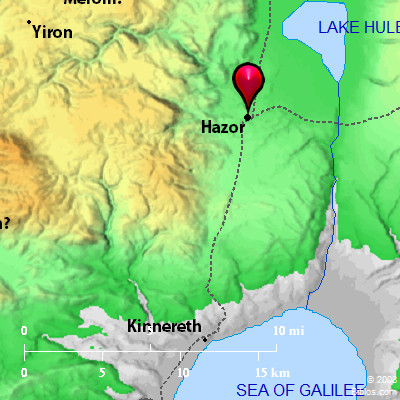 ---
Maps Created using Biblemapper 3.0
Additional data from OpenBible.info
Occurrences
Joshua 15:3
and it went out southward of the ascent of Akrabbim, and passed along to Zin, and went up by the south of Kadesh Barnea, and passed along by Hezron, went up to Addar, and turned about to Karka;
Encyclopedia
HEZRON (1)
hez'-ron (chetsron, and chetsron; Septuagint Asron):

(1) A son of Reuben (Genesis 46:9 Exodus 6:14), and head of the family of the Hezronites (Numbers 26:6).

(2) A son of Perez, and grandson of Judah (Genesis 46:12 Numbers 26:21 1 Chronicles 2:5, 9, 18, 21, 24, 25; 1 Chronicles 4:1), a direct ancestor of David (Ruth 4:18 f). He appears also in the genealogy of our Lord (Esrom) (Matthew 1:3 Luke 3:33).
HEZRON (2)
(chetsron, "enclosure"): On the South boundary of Judah between "Kadesh-barnea" and "Addar" (Joshua 15:3); in the parallel passage (Numbers 34:4) "Hazar-addar." The two places may have been near together. Conder suggests that the name survives in Jebel Hadhireh, a mountain Northwest of Petra in the Tih.