Atlas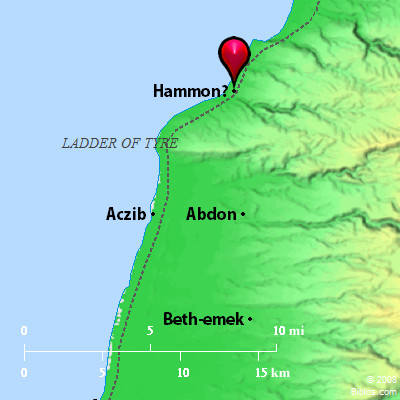 ---
Maps Created using Biblemapper 3.0
Additional data from OpenBible.info
Occurrences
Joshua 19:28
and Ebron, Rehob, Hammon, and Kanah, even to great Sidon.
1 Chronicles 6:76 and out of the tribe of Naphtali, Kedesh in Galilee with its suburbs, and Hammon with its suburbs, and Kiriathaim with its suburbs.
Encyclopedia
HAMMON
ham'-on (chammon, "glowing"):

(1) A place on the seaward frontier of Asher, named with Rehob and Kanah (Joshua 19:28), to be sought, therefore, not far from Tyre. The most probable identification so far suggested is with Umm el'Amud, "mother of the column" (or `Awamid, "columns"), at the mouth of Wady Chamul, on the shore, about 10 miles South of Tyre. An inscription found by Renan shows that the place was associated with the worship of Ba`al Chamman (CIS, I, 8).

(2) A city in Naphtali, given to the Gershonite Levites (1 Chronicles 6:76). It is identical with Hammath (Joshua 19:35), and probably also with Hammoth-dor (Joshua 21:32).

W. Ewing
---
HAMMON, Josh. 19:28, 1 Chron. 6:76 the only references. This place has been mentioned as identified with an Ain Hamul, 10 ms. s. of Tyre. The latter is a spring s. of Wady Zerka but there is no other evidence of importance; one mile from the sea coast. It has been associated, without sufficient reason, with UMMAH. Josh. 19:30.
Strong's Hebrew
H2540: Chammon
"hot (spring)," two cities, one in Asher and one in Naphtali