Atlas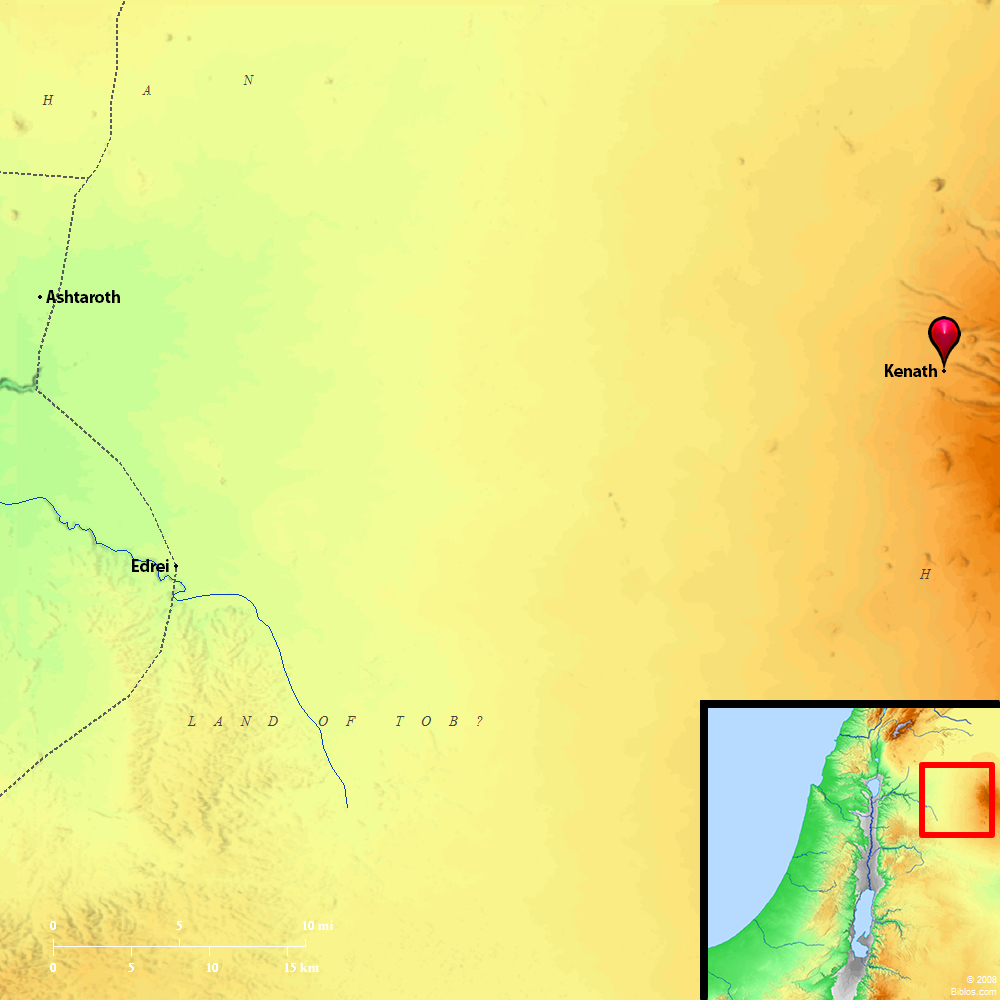 ---
Maps Created using Biblemapper 3.0
Additional data from OpenBible.info
Occurrences
Numbers 32:42
Nobah went and took Kenath, and its villages, and called it Nobah, after his own name.
1 Chronicles 2:23 Geshur and Aram took the towns of Jair from them, with Kenath, and its villages, even sixty cities. All these were the sons of Machir the father of Gilead.
Encyclopedia
KENATH
ke'-nath (qenath; Kaath kaanath, in Septuagint, Codex Alexandrinus): A city in Bashan, taken along with its "daughters," i.e. "villages" from the Amorites by Nobah who gave it his own name (Numbers 32:42). It was recaptured by Geshur and Aram (1 Chronicles 2:23). It is probably identical with the modern Kanawat, which is built on the site, and largely from the materials of an ancient city. It lies about 16 miles to the North of Bosra eski Sham, the Bostra of the Romans, on both sides of Wady Kanawat, where, descending from the slopes of Jebel ed-Druze, it plunges over a precipice, forming a picturesque waterfall. On the plateau above the modern village, there is a striking collection of Roman and Christian remains, the shapely forms of many columns lending distinction to the scene. One large building is associated with the name of the patriarch Job-Maqam Ayyub. The position commands a spacious and interesting view over the whole of the Chauran. The identification has been rejected by Socin (Baedeker, Pal3, 207), but his reasons are not given. Moore (Judges, 222) also rejects it, but for reasons that are not convincing.

W. Ewing
---
KE'NATH, afterward called Nobah by whom it was conquered, Numb. 32:42, now Kunawat 98 ms. n.n.e, from Jerusalem, 60 ms.e. of the middle of the sea of Galilee and 55 ms. s, by e. from Damascus.
Strong's Hebrew
H7079: Qenath
a city East of the Jordan