Atlas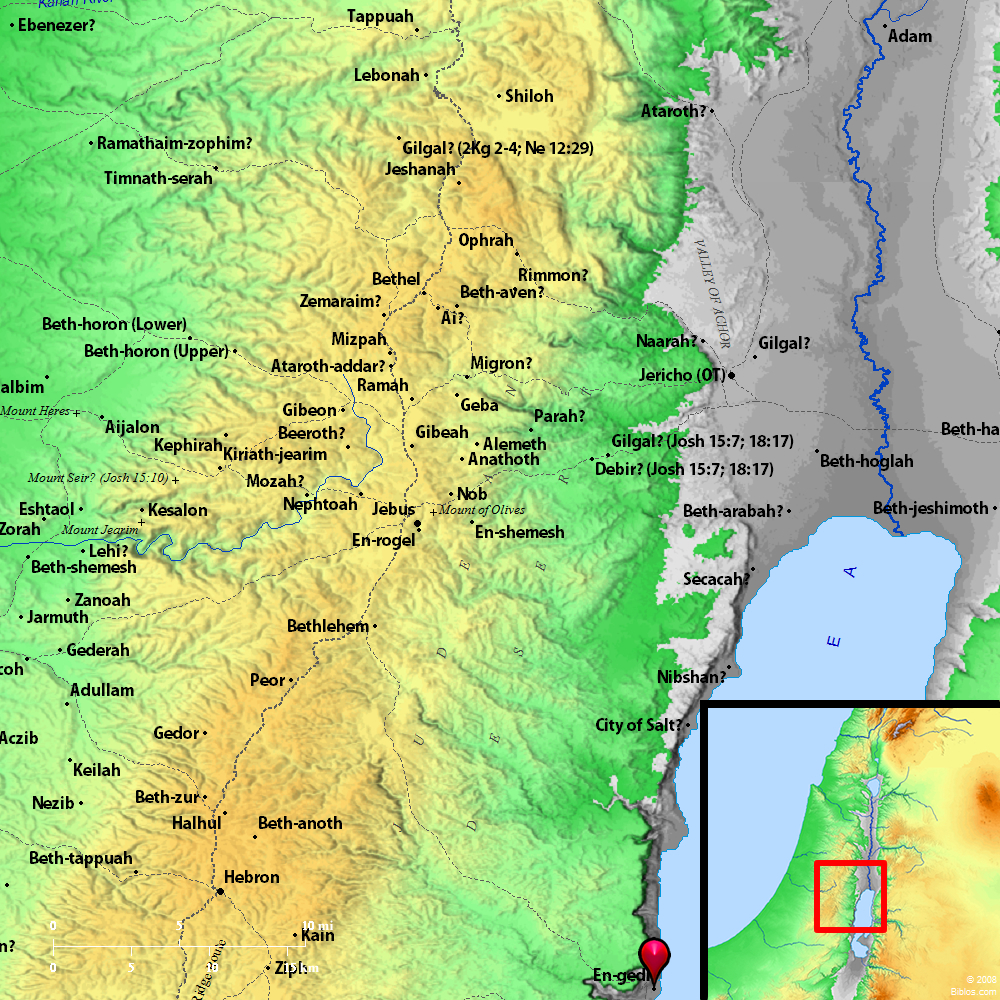 ---
Maps Created using Biblemapper 3.0
Additional data from OpenBible.info
Occurrences
Genesis 14:7
They returned, and came to En Mishpat (the same is Kadesh), and struck all the country of the Amalekites, and also the Amorites, that lived in Hazazon Tamar.
2 Chronicles 20:2 Then there came some who told Jehoshaphat, saying, There comes a great multitude against you from beyond the sea from Syria; and behold, they are in Hazazon Tamar (the same is En Gedi).
Encyclopedia
HAZAZON-TAMAR
haz'-a-zan-ta'-mar (chatsatson tamar; the King James Version Hazezon Tamar): "Hazazon of the palm trees," mentioned (Genesis 14:7) as a place of the Amorites, conquered, together with En-mishpat and the country of the Amalekites, by Chedorlaomer; in 2 Chronicles 20:2 it is identified with EN-GEDI (which see); and if so, it must have been its older name. If this identification be accepted, then Hazazon may survive in the name Wady Husasah, Northwest of `Ain Jidy. Another suggestion, which certainly meets the needs of the narrative better, is that Hazazon-tamar is the Thamara of Eusebius, Onomasticon (85 3; 210 86), the Thamaro, of Ptol. xvi0.3. The ruin Kurnub, 20 miles West-Southwest of the South end of the Dead Sea-on the road from Hebron to Elath-is supposed to mark this site.

E. W. G. Masterman
---
HAZEZON-TAMAR, afterward called En-gedi. In Gen. 14:7 it is in the Hebrew, Hazazon-tamar and in 2 Chron. 20:2, in the Hebrew, it is Hazezon-tamarjust the the reverse of the order found in our English translation. It is probable that the latter is the only correct form, as the Masoreth Hebrew asserts, see Purver Crit. Trans. of O. and N. T. folio, 2 vols., London, 1764.
Strong's Hebrew
H2688: Chatsatson Tamar
a place on the W. side of the Dead Sea