Atlas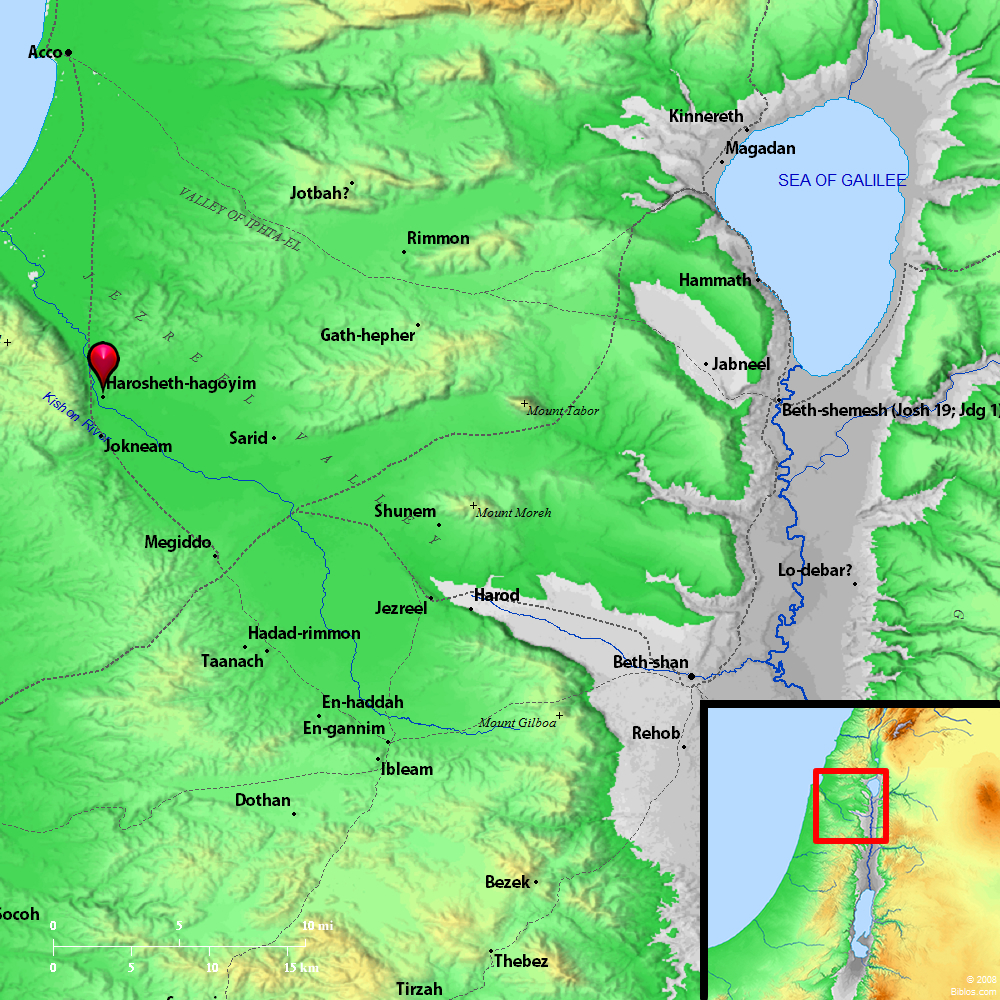 ---
Maps Created using Biblemapper 3.0
Additional data from OpenBible.info
Occurrences
Judges 4:2
Yahweh sold them into the hand of Jabin king of Canaan, who reigned in Hazor; the captain of whose army was Sisera, who lived in Harosheth of the Gentiles.
Judges 4:13 Sisera gathered together all his chariots, even nine hundred chariots of iron, and all the people who were with him, from Harosheth of the Gentiles, to the river Kishon.
Judges 4:16 But Barak pursued after the chariots, and after the army, to Harosheth of the Gentiles: and all the army of Sisera fell by the edge of the sword; there was not a man left.
Encyclopedia
HAROSHETH, OF THE GENTILES, OF THE NATIONS
ha-ro'-sheth or (charosheth ha-goyim): There is now no means of discovering what is meant by the phrase "of the nations." This is the place whence Sisera led his hosts to the Kishon against Deborah and Barak (Judges 4:13), to which the discomfited and leaderless army fled after their defeat (Judges 4:16). No site seems so well to meet the requirements of the narrative as el Charithiyeh. There are still the remains of an ancient stronghold on this great double mound, which rises on the North bank of the Kishon, in the throat of the pass leading by the base of Carmel, from the coast to Esdraelon. It effectually commands the road which here climbs the slope, and winds through the oak forest to the plain; Megiddo being some 16 miles distant. The modern also preserves a reminiscence of the ancient name. By emending the text, Cheyne would here find the name "Kadshon," to be identified with Kedesh in Galilee (EB, under the word). On any reasonable reading of the narrative this is unnecessary.

W. Ewing
---
HARO'SHETH of the Gentiles, is with great probability to be located near the modern Harithiyeh, now a little mud village, 9 ms. almost due s.e. from Haifa, near the n.e. base of Mt. Carmel. It is mile e. of the river Kishon. Judg. 4:2, 13, 16, are the only references.
Strong's Hebrew
H2800: Charosheth
a place in Palestine