Atlas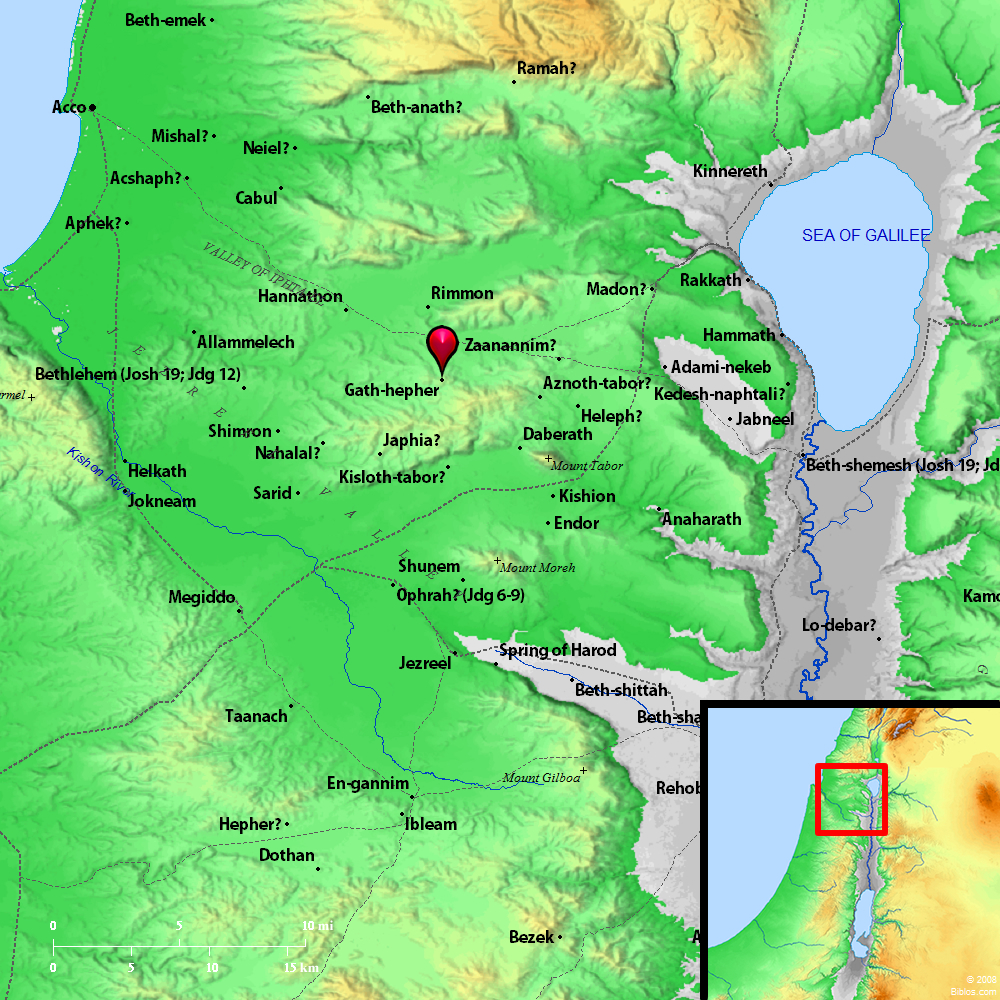 ---
Maps Created using Biblemapper 3.0
Additional data from OpenBible.info
Occurrences
Joshua 19:13
From there it passed along eastward to Gath Hepher, to Ethkazin; and it went out at Rimmon which stretches to Neah.
2 Kings 14:25 He restored the border of Israel from the entrance of Hamath to the sea of the Arabah, according to the word of Yahweh, the God of Israel, which he spoke by his servant Jonah the son of Amittai, the prophet, who was of Gath Hepher.
Encyclopedia
GATH-HEPHER
gath-he'-fer (gath ha-chepher, "winepress of the pit"):

A town on the boundary of Zebulun (Joshua 19:13; the King James Version in error, "Gittah-hapher"), the birthplace of the prophet Jonah (2 Kings 14:25). Jerome (Commentary on Jonah) speaks of Geth as an inconsiderable village, about 2 miles from Sepphoris on the Tiberias road, where the tomb of Jonah was shown. Benjamin of Tudela says that Jonah the son of Amittai the prophet was buried "in the mountain" near Sepphoris (Bohn, Early Travels in Palestine, 88). These indications agree with the local tradition which identifies Gath-hepher with el-Meshhed, a village with ancient ruins on a height North of the road as one goes to Tiberias, about 2 miles from Nazareth, and half a mile from Kefr Kennah.

W. Ewing
---
GATH-HE'PHER, also called Gittah-h., 2 1/2 ms. n. n. e. of Nazareth. It is now a small village on a hill and called el Meshed.
Strong's Hebrew
H1662: Gath-hachepher
"wine press of digging," home of Jonah