Atlas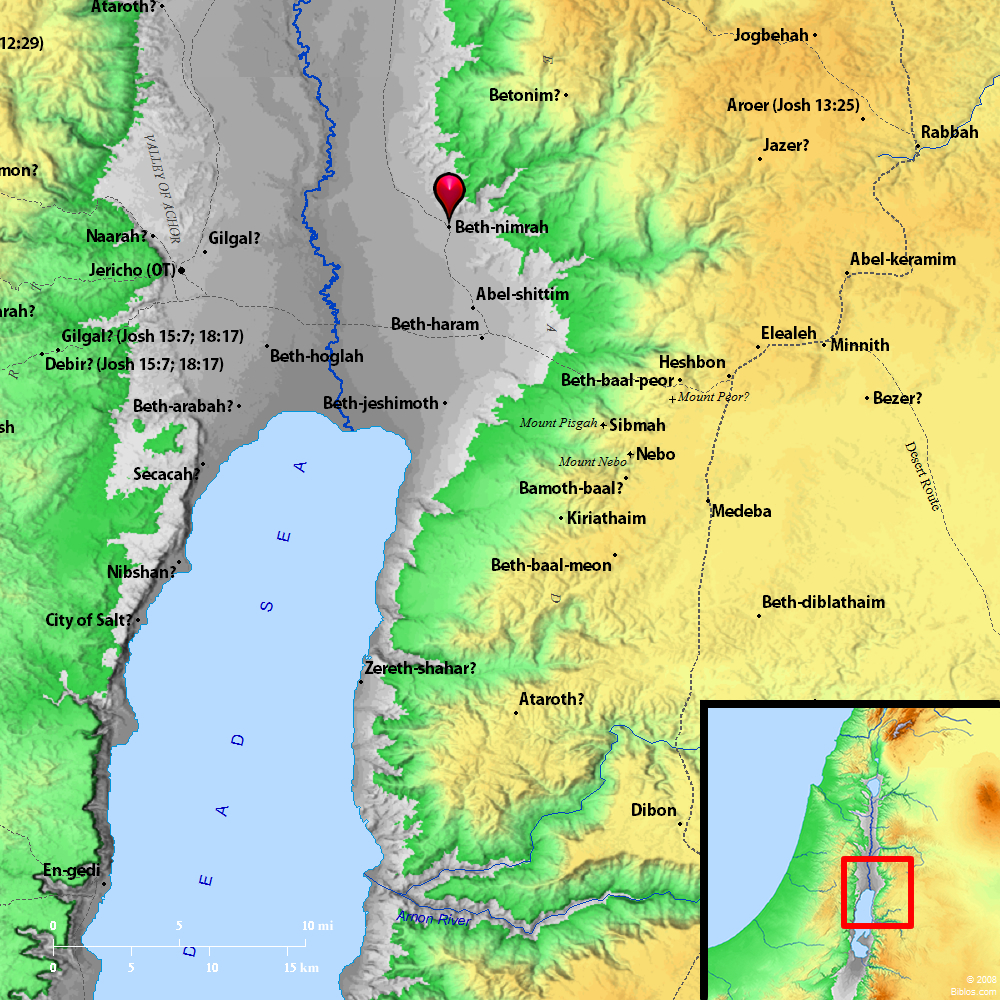 ---
Maps Created using Biblemapper 3.0
Additional data from OpenBible.info
Occurrences
Numbers 32:36
and Beth Nimrah, and Beth Haran: fortified cities, and folds for sheep.
Joshua 13:27 and in the valley, Beth Haram, Beth Nimrah, Succoth, and Zaphon, the rest of the kingdom of Sihon king of Heshbon, the Jordan's bank, to the uttermost part of the sea of Chinnereth beyond the Jordan eastward.
Encyclopedia
BETH-NIMRAH
beth-nim'-ra (beth nimrah, "house of leopard," Numbers 32:36, but in verse Numbers 32:3 it is simply Nimrah): In Joshua 13:27 the full name appears. In Isaiah 15:6 the name appears as Nimrim, identified as Tell Nimrim, between Jericho and the mountains on the east, where there is a fountain of large size. The city was assigned to Gad. In the 4th century A.D. it was located as five Roman miles North of Livias. Eusebius calls it Bethamnaram (SEP, I, Tell Nimrin).
---
BETH-NIM'RAH, now Nimrin, about 4 1/2 ms. e. of Jordan, and about 10 ms. n. of the Dead Sea, it is the same as Nimrah; Nimrin is the plural. Only ruins are to be seen, and a large stream passes near the place. Isaiah 15:6. The supposed location s. of the Dead Sea is improbable.
Strong's Hebrew
H1039: Beth Nimrah
"place of a leopard," a place East of the Jordan