Atlas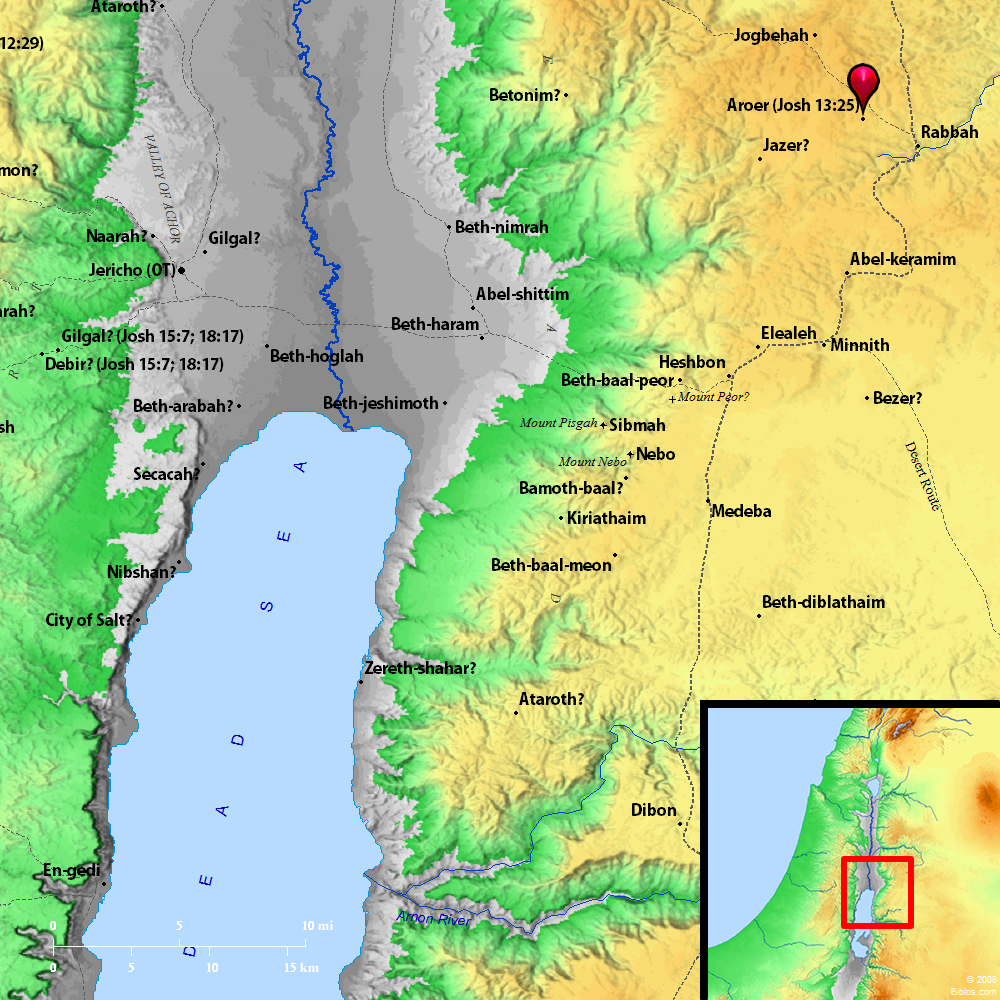 ---
Maps Created using Biblemapper 3.0
Additional data from OpenBible.info
Occurrences
Numbers 32:34
The children of Gad built Dibon, and Ataroth, and Aroer,
Joshua 13:25 Their border was Jazer, and all the cities of Gilead, and half the land of the children of Ammon, to Aroer that is before Rabbah;
Judges 11:33 He struck them from Aroer until you come to Minnith, even twenty cities, and to Abelcheramim, with a very great slaughter. So the children of Ammon were subdued before the children of Israel.
2 Samuel 24:5 They passed over the Jordan, and encamped in Aroer, on the right side of the city that is in the middle of the valley of Gad, and to Jazer:
1 Chronicles 5:8 and Bela the son of Azaz, the son of Shema, the son of Joel, who lived in Aroer, even to Nebo and Baal Meon:
Isaiah 17:2 The cities of Aroer are forsaken. They will be for flocks, which shall lie down, and none shall make them afraid.
Encyclopedia
AROER
a-ro'-er (`aro'er; Aroer):

(1) A city of the Amorites which stood on the northern edge of the Arnon (Deuteronomy 2:36, etc.). Taken by Israel, it shared the vicissitudes of the country north of the river, and when last named (Jeremiah 48:19) is again in the hands of Moab. It is one of the cities which Mesha claims to have built, i.e. fortified. It was within the territory allotted to Reuben, yet its building (fortification) is attributed to Gad (Numbers 32:34). Thus far came the Syrian, Hazael, in his raid upon Israel (2 Kings 10:33). The Roman road across the valley lay about an hour to the West of Khirbet `Ara`ir.

(2) A city in Gilead described as "before Rabbah," on the boundary between Gad and the Ammonites (Joshua 13:25). No name resembling this has yet been recovered in the district indicated.

(3) A city in the territory of Judah named only in 1 Samuel 30:28. Probably however in Joshua 15:22 we should read `ar`arah instead of `adh`adhah, which may be the same city, and may be identical with `Ar`ara, a site with cisterns and some remains of ancient buildings about 14 miles Southeast of Beersheba.

W. Ewing