Atlas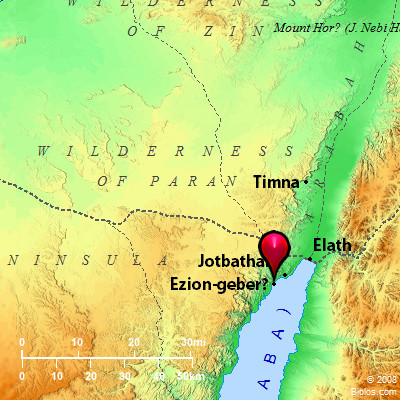 ---
Maps Created using Biblemapper 3.0
Additional data from OpenBible.info
Occurrences
Numbers 33:35
They traveled from Abronah, and encamped in Ezion Geber.
Numbers 33:36 They traveled from Ezion Geber, and encamped in the wilderness of Zin (the same is Kadesh).
Deuteronomy 2:8 So we passed by from our brothers the children of Esau, who dwell in Seir, from the way of the Arabah from Elath and from Ezion Geber. We turned and passed by the way of the wilderness of Moab.
1 Kings 9:26 King Solomon made a navy of ships in Ezion Geber, which is beside Eloth, on the shore of the Red Sea, in the land of Edom.
1 Kings 22:48 Jehoshaphat made ships of Tarshish to go to Ophir for gold: but they didn't go; for the ships were broken at Ezion Geber.
2 Chronicles 8:17 Then went Solomon to Ezion Geber, and to Eloth, on the seashore in the land of Edom.
2 Chronicles 20:36 and he joined himself with him to make ships to go to Tarshish; and they made the ships in Ezion Geber.
Encyclopedia
EZION-GEBER
e-zi-on-ge'-ber ('etsyon gebher; Gasion Gaber):

Always mentioned along with Elath ("Eziongaber," Numbers 33:35 the King James Version). When the children of Israel left "the way of the Arabah," having come from the Northwest, they seem to have turned to the Northeast from the neighborhood of `Aqaba, passing up by Wady el-Ithm toward the eastern desert (Deuteronomy 2:8). Elath and Ezion-geber were evidently not far apart. They are named together again in connection with the maritime enterprises of Solomon and Jehoshaphat (1 Kings 9:26, etc.). They therefore both lay on the shore of the sea. No trace of Ezion-geber is to be found on the present coast line. It is probable, however, that in ancient times the sea covered a considerable stretch of the mud flats at the South end of Wady el-`Arabah, and the site of Ezion-geber may be sought near the spring `Ain el-Ghudyan, about 15 miles North of the present head of the Gulf of `Aqaba.

W. Ewing
Strong's Hebrew
H6100: Etsyon Geber
a city on the shore of the Gulf of Aqaba