Atlas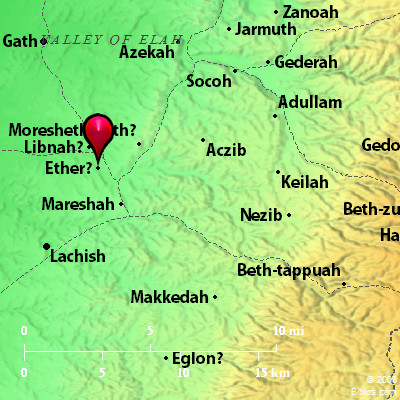 ---
Maps Created using Biblemapper 3.0
Additional data from OpenBible.info
Occurrences
Joshua 15:42
Libnah, Ether, Ashan,
Joshua 19:7 Ain, Rimmon, Ether, and Ashan; four cities with their villages;
Encyclopedia
ETHER
e'-ther (`ether; Ather):

A town in Judah (Joshua 15:42), near Libnah, assigned to Simeon (Joshua 19:7). Kh. el `Atr (identical in spelling with Ether) is possibly the site.

It is near Beit Jibrin and is described as "an ancient site: cisterns, foundations, quarried rock and terraces" (PEF, III, 261, 279).
Strong's Hebrew
H6281: Ether
perhaps "abundance," a place in Judah