Atlas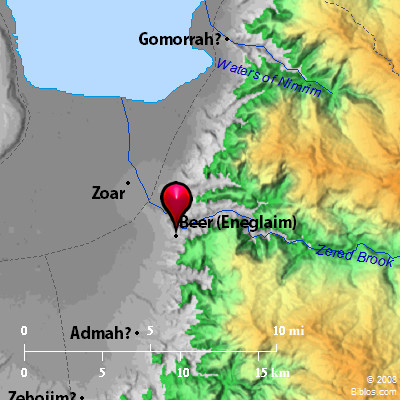 ---
Maps Created using Biblemapper 3.0
Additional data from OpenBible.info
Occurrences
Ezekiel 47:10
It shall happen, that fishermen shall stand by it: from En Gedi even to En Eglaim shall be a place for the spreading of nets; their fish shall be after their kinds, as the fish of the great sea, exceeding many.
Encyclopedia
EN-EGLAIM
en-eg'-la-im, en-eg-la'-im (`en `eghlayim, "fountain of calves"?):

In Ezekiel's vision of the waters it is one of the two points between which "fishers shall stand" (Ezekiel 47:10).

The situation must be near the entrance of the Jordan into the Dead Sea (see EN-GEDI).

Tristram (Bible Places, 93) identifies it with `Ain Hajlah (compare BETH-HOGLAH);

Robinson (BRP, II, 489), with `Ain Feshkah.
Strong's Hebrew
H5882: En Eglayim
"spring of two calves," a place on the Dead Sea