Atlas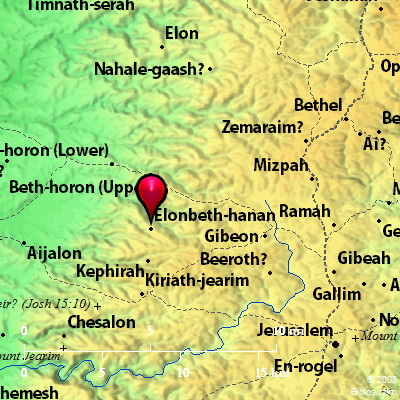 ---
Maps Created using Biblemapper 3.0
Additional data from OpenBible.info
Occurrences
1 Kings 4:9
Ben Deker, in Makaz, and in Shaalbim, and Beth Shemesh, and Elon Beth Hanan;
Encyclopedia
ELON (2)
e'-lon ('elon, a "terebinth"; Ailon):

A town in the territory of Dan named between Ithlah and Timnah (Joshua 19:43). It is possibly identical with Elon-beth-Hanan which, along with Shaalbim and Bethshemesh, formed one of Solomon's commissariat districts (1 Kings 4:9).

Conder has suggested Beit' Anan, about 4 miles Northwest of Neby Samwil: it is quite uncertain.
Strong's Hebrew
H358: Elon Beth Chanan
"terebinth of (the) house of favor," a place in Dan