Atlas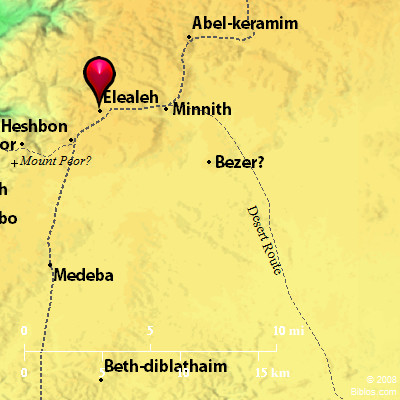 ---
Maps Created using Biblemapper 3.0
Additional data from OpenBible.info
Occurrences
Numbers 32:3
"Ataroth, and Dibon, and Jazer, and Nimrah, and Heshbon, and Elealeh, and Sebam, and Nebo, and Beon,
Numbers 32:37 The children of Reuben built Heshbon, and Elealeh, and Kiriathaim,
Isaiah 15:4 Heshbon cries out with Elealeh. Their voice is heard even to Jahaz. Therefore the armed men of Moab cry aloud. Their souls tremble within them.
Isaiah 16:9 Therefore I will weep with the weeping of Jazer for the vine of Sibmah. I will water you with my tears, Heshbon, and Elealeh: for on your summer fruits and on your harvest the battle shout has fallen.
Jeremiah 48:34 From the cry of Heshbon even to Elealeh, even to Jahaz have they uttered their voice, from Zoar even to Horonaim, to Eglath Shelishiyah: for the waters of Nimrim also shall become desolate.
Encyclopedia
ELEALEH
e-le-a'-le ('el`aleh, "God has ascended"):

Lay in the country taken from Sihon and within the lot given to Reuben (Numbers 32:3, 17 f). "Their names being changed" seems to apply to all the towns mentioned. There is no indication of the other names. Elealeh is noticed with Heshbon in the oracles against Moab in Isaiah 15:4; Isaiah 16:9 Jeremiah 48:34. Eusebius (Onomasticon) locates it one Roman mile from Heshbon. It is represented today by el'Al, a mound crowned with ruins, about a mile North of Chesban.
---
ELEA'LEH, e. of Jordan, now el A'al, 1 m. n.e. of Heshbon, mentioned 5 times, but not important.
Strong's Hebrew
H500: Elale
"God ascends," four Israelites