Atlas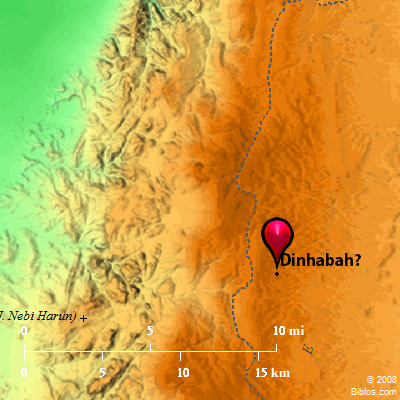 ---
Maps Created using Biblemapper 3.0
Additional data from OpenBible.info
Occurrences
Genesis 36:32
Bela, the son of Beor, reigned in Edom. The name of his city was Dinhabah.
1 Chronicles 1:43 Now these are the kings who reigned in the land of Edom, before there resigned any king over the children of Israel: Bela the son of Beor; and the name of his city was Dinhabah.
Encyclopedia
DINHABAH
din'-ha-ba, din-ha'-ba (dinhabhah): The royal city of Bela, son of Beor; king of Edom (Genesis 36:32 1 Chronicles 1:43). There may be a resemblance in the name of Hodbat et-Teneib. about 8 miles East of Heshbon; but this is in the land of Moab, and probably much too far to the North. No satisfactory identification has been proposed.
Strong's Hebrew
H1838: Dinhabah
a city in Edom