Atlas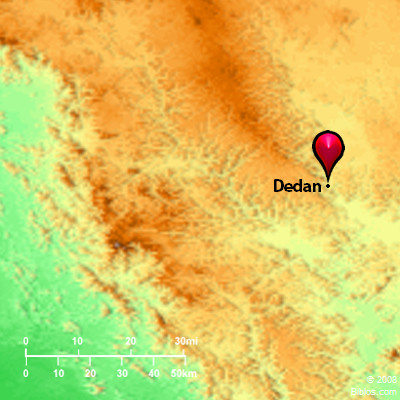 ---
Maps Created using Biblemapper 3.0
Additional data from OpenBible.info
Occurrences
Numbers 21:4
They traveled from Mount Hor by the way to the Red Sea, to compass the land of Edom: and the soul of the people was much discouraged because of the way.
Numbers 21:5 The people spoke against God, and against Moses, "Why have you brought us up out of Egypt to die in the wilderness? For there is no bread, and there is no water; and our soul loathes this light bread."
Jeremiah 25:23 Dedan, and Tema, and Buz, and all who have the corners of their hair cut off;
Jeremiah 49:8 Flee, turn back, dwell in the depths, inhabitants of Dedan; for I will bring the calamity of Esau on him, the time that I shall visit him.
Ezekiel 25:13 therefore thus says the Lord Yahweh, I will stretch out my hand on Edom, and will cut off man and animal from it; and I will make it desolate from Teman; even to Dedan shall they fall by the sword.
Ezekiel 27:15 The men of Dedan were your traffickers; many islands were the market of your hand: they brought you in exchange horns of ivory and ebony.
Ezekiel 27:20 Dedan was your trafficker in precious cloths for riding.
Ezekiel 38:13 Sheba, and Dedan, and the merchants of Tarshish, with all the young lions of it, shall tell you, Have you come to take the spoil? have you assembled your company to take the prey? to carry away silver and gold, to take away livestock and goods, to take great spoil?
Encyclopedia
DEDAN; DEDANITES
de'-dan, de'dan-its (the King James Version Dedanim, ded'-a-nim; dedhan, "low," dedhanim): An Arabian people named in Genesis 10:7 as descended from Cush; in Genesis 25:3 as descended from Keturah. Evidently, they were, like the related Sheba (Sabaeans), of mixed race (compare Genesis 10:7, 28). In Isaiah 21:13 allusion is made to the "caravans of Dedanites" in the wilds of Arabia, and Ezekiel mentions them as supplying Tyre with precious things (Ezekiel 27:20; in verse 15, "Dedan" should probably be read as in Septuagint, "Rodan," i.e. Rhodians). The name seems still to linger in the island of Dadan, on the border of the Persian Gulf. It is found also in Min. and Sab. inscriptions (Glazer, II, 392).

James Orr